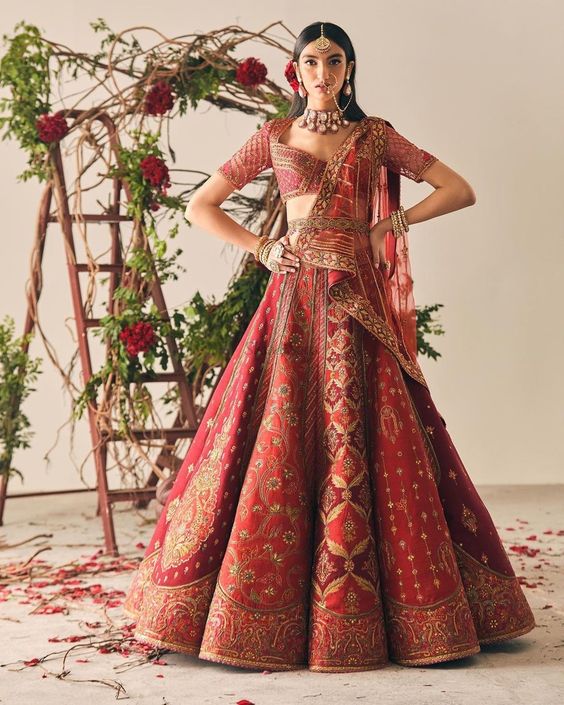 Lehenga cholis are definitely among some of the most feminine and sexy ethnic wear a woman can flaunt. Perfect for festivals, weddings, engagements, and anniversaries, these are wardrobe must-haves if you really want to stand out. What's even better is that lehengas can be styled in a number of ways with the aid of beautiful dupattas. Love the demure look? Pin the edge of a dupatta to a topknot, leaving the ends to fall gracefully. Drape another dupatta of the same design over your shoulders for more coverage. You can also try a playful look by pinning one end of a dupatta around your wrist and the other end over your shoulder. There are so many styles to try! Give our fashion guide here a peek for more wonderful ways you can wear a lehenga chioli.
Saree-Inspired Drape
Your glamorous lehenga choli may look fabulous as it is but there's no reason you can't take it up a notch. We recommend trying a gorgeous saree-inspired drape. Instead of just draping the dupatta around your neck, use it to create a lovely hourglass shape. Take one end of the dupatta and tuck it into the waistband of your lehenga. Wrap it snugly around your hips one time and then bring the other end up to fall over your shoulder. Hold it in place with an embellished pin if it slips. This is an excellent way to achieve a demure look without completely covering up. You can also wear a backless choli if you want to go for a sexier vibe. You can accessorise with sparkling matching jhumkas and a delicate necklace that runs down your back.
It's All in the Wrist!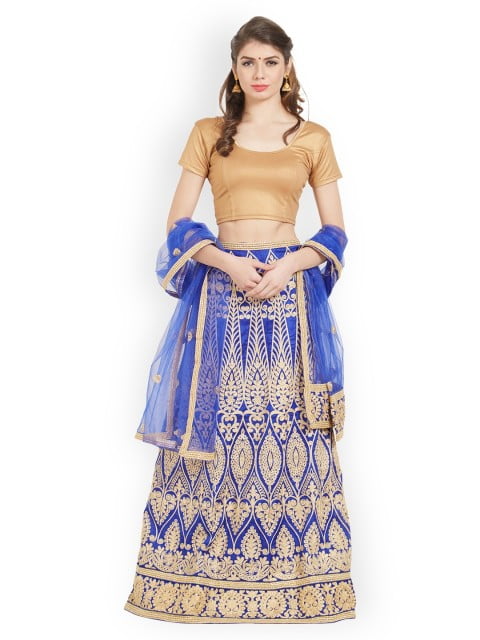 A sure way to get yourself noticed among the crowd is to get creative with your dupatta. Choose a midnight blue lehenga with a gold-toned choli and a two-toned dupatta. Pleat one half of it neatly and fasten it to the shoulder of your choli so that the ends fall towards the front. Then, take the other half of the dupatta and tie one end of it around your wrist to create a flowing silhouette. You can also tie it to a cuff bracelet if it's easier. We love this look for festivals and galas. You can play it up with a couple of finger rings and a set of bangles or keep it simple with just the cuff bracelet and a pair of earrings.
Wrap It Like a Stole
When it's a little chilly, you'll need to cover up, but wearing a sweater or a coat could hide the beautiful details on your lehenga choli. What do you do? Use the dupatta as a stole, of course! It's a beautiful yet practical solution to keeping at least some of the chill at bay. Choose a panelled lehenga and a fitted choli with cap sleeves to keep your silhouette sleek. Drape a lovely net dupatta with gorgeous embroidered borders over your shoulders and pin it in place. You can free up your hands when you need to and you won't have to keep adjusting the dupatta.
The Classic Drape with a Twist
You can't go wrong with the flowing silhouette that you get from the trusty over-one-shoulder dupatta look. But, sometimes it's nice to spice it up a little, especially if you want to stand out. We suggest tucking the back end of your dupatta into the lehenga's waistband and bringing the front around and towards the back to tuck the other end into the same place. You can use safety pins to secure everything if the fabric is too slippery or if you need the dupatta to really stay put. This look is perfect if you need to keep your hands free yet still want to show off the flowing silhouette of your dupatta.
Create a Cowl-Neck Effect
Dupattas are wonderful accessories that are a lot of fun to play around with. One way you can personalise your look is by creating a cowl-neck effect. To do this, drape both ends of the dupatta towards your back like you would when wearing a salwar or churidar suit. But, instead of bringing the front to a neat 'V' shape, create large pleats that fall towards your waist in a big 'U' shape. This creates a gorgeous cowl-like neckline and style that cleverly hides less-than-toned abs. Show off this style the next time there's a family affair and you want to cover up a little.
A Sexy Front Drape
If you're tired of always draping your dupatta towards the back, why not bring it to the front? It'll let you show a bit of skin without overdoing it. Begin by pleating one end of your dupatta and bringing up and over the front of one of your shoulders until it's about knee-length. Then, take the other end and wrap it around your hips until you're left with just a little fabric that you can tuck into the waist of your lehenga. You can also try this look if your dupatta has a beautiful border that you'd like to show off. Accessorise with a set of bangles and chandelier earrings for more sparkle.
Cinched at the Waist
If you have a nice belt you'd like to wear, or if the border of your dupatta is especially stunning, you can show it off by pleating and draping one end from the back to the front so that it falls over your right shoulder and down to your hips. Take one end of the border in front of you and angle it out a little. Use a pretty embellished or gold belt to cinch it at the waist so that it creates a little flare. The other end of the dupatta can be draped over your left wrist. Don't forget to accessorise with a few sparkling bangles and bracelets!
Lehengas: Your Ticket to Amazing Style!
Lehengas are fabulous garments and the fact that they can be styled in so many ways just makes them even more attractive. Discover the fun of playing the stylist and coming up with new ways to personalise your outfits. Show off dupattas that feature colourful kundan work, buttis, embellishments, and even terrific colours. Bring out the beautiful hues with gold or silver jewellery, mehendi, and carefully manicured nails. Step out in figure-flattering lehengas and prepare for a flood of compliments. This gorgeous type of ethnic wear really is one of the most beautiful garments you can flaunt at any special event.