Unraveling the World of Sleep: Exploring Various Types of Beds
Beds provide a haven of relaxation and tranquility for dreams and comfort. The sorts of beds we pick play an important role in our pursuit of the ideal rest, engulfing us in their embrace. Let's go on a tour through many types of beds, investigating the beauty, utility, and uniqueness that each provides to our living spaces.
Upholstered Bed: A Symphony of Comfort and Elegance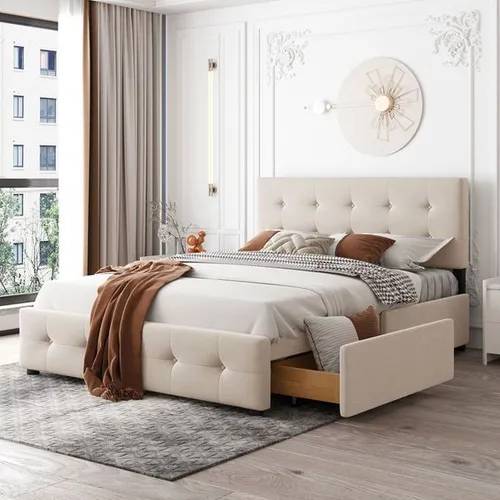 Among the different types of beds available, the upholstered bed is a symphony of luxury and beauty. With its velvety, cushioned design that flawlessly blends aesthetics and practicality, it is a tribute to sumptuous relaxation. It takes bedroom décor to new heights, providing a polished touch as well as a pleasant sanctuary for daydreamers. With its elegant allure, this kind of bed is a great choice for individuals seeking a balanced blend of refinement and a comfortable embrace in their resting sanctuaries.
Four-poster Bed: A Royal Repose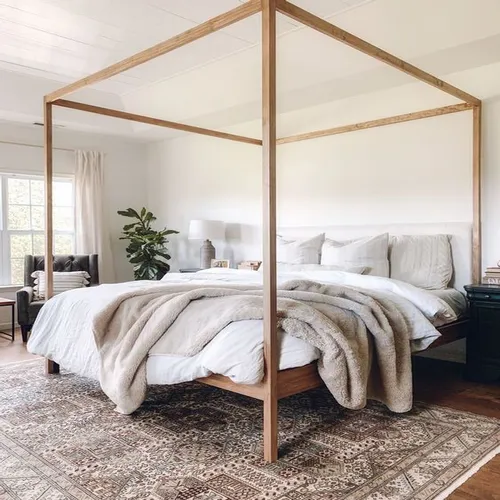 The four-poster bed reigns foremost among bed kinds, embodying regal relaxation and conveying an atmosphere of elegance and grandeur. It transforms every bedroom into a regal chamber with its magnificent columns and, typically, a sumptuous canopy. It not only reflects one's artistic taste, but it also provides a unique, private sleeping experience evocative of past splendor. This type of bed is a timeless classic, welcoming residents into a world of comfort and luxury, making it a distinct choice for anyone looking to sleep in ultimate elegance and refinement.
Ottoman Bed/Hydraulic Bed: Modernity Meets Functionality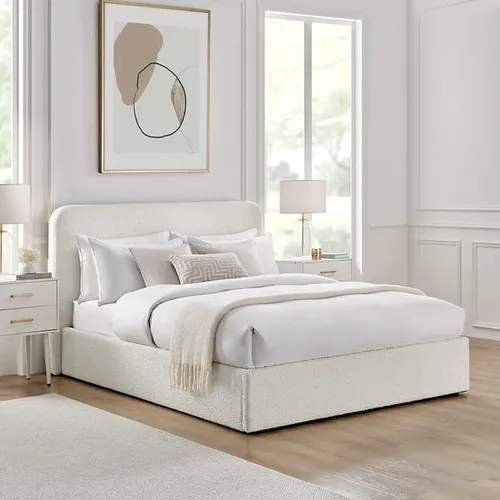 The Ottoman Bed/Hydraulic Bed is a symbol of unique design in the world of modern sleeping solutions, combining modernism with utility. It is the epitome of functionality blended with flair, with its sleek look and innovative storage features. The concealed storage compartment, which is accessible by a hydraulic mechanism, increases space utilization, making it an ideal alternative for individuals with limited space or a preference for ordered living. This types of bed is a new step forward in advancing bed designs by combining comfort and adaptability.
Panel Bed: Simplicity and Grace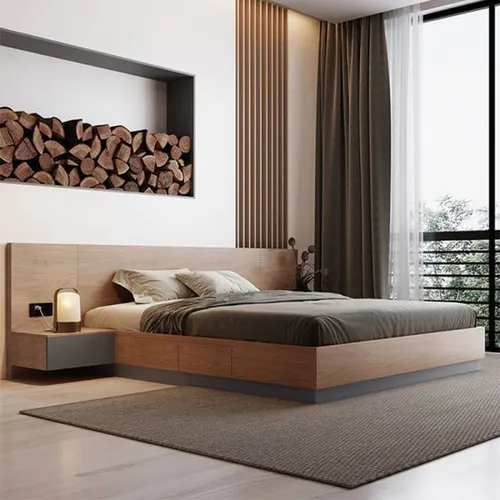 The panel bed represents simplicity and elegance, adding exquisite and modest beauty to bedroom decor. This types of bed is distinguished by a sturdy and streamlined headboard and footboard, which are commonly embellished with ornate molding, producing a tranquil and harmonious ambiance. Its robust structure and sophisticated design make it a timeless item that will mix in with a variety of décor schemes. It embodies traditional elegance and utility, offering a calm haven for leisure. The panel bed's simple yet refined form makes it a versatile choice for fans of minimalist and graceful living spaces.
Floating Bed: Levitating on Clouds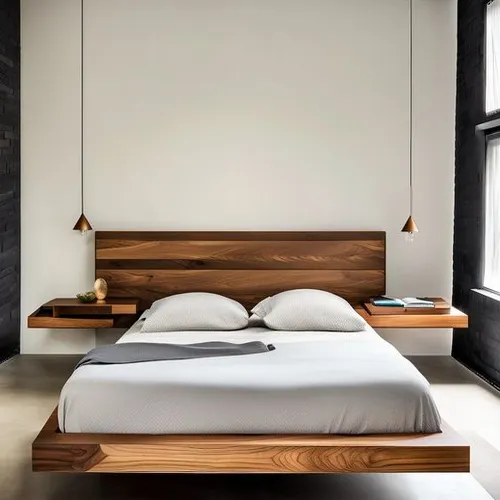 The Floating Bed is a modern and magical twist on bedroom décor that creates the sensation of floating in mid-air, similar to reclining on clouds. This creative design achieves a simple yet compelling look, providing a sense of freedom and modernism. The modest suspension gives the ambiance a streamlined and uncluttered appearance, changing it into a quiet and airy sanctuary. The floating bed's aesthetic appeal and new approach make it a great choice for individuals seeking a combination of luxury and futuristic flare in their own sanctuaries.
Waterbed: The Fluid Embrace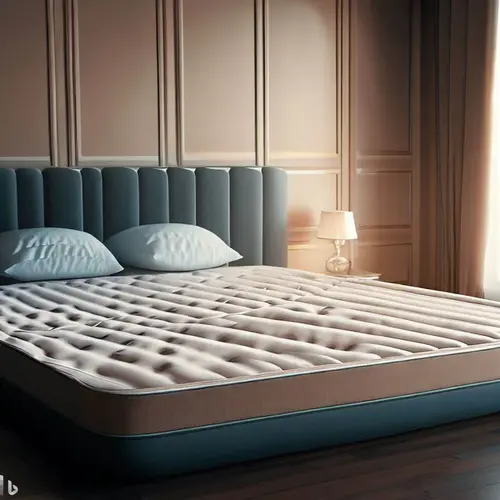 The waterbed's flowing embrace provides a unique and pleasant sleeping experience. It fits the body, giving unsurpassed support and comfort, distinguishing it from the wide range of types of beds. The smooth ebb and flow of the water simulates a soothing embrace, relieving tension and fostering peaceful rest. This unique types of bed blends therapeutic advantages with creative design, providing a balanced combination of relaxation and modern flair. It's especially appealing to people who want to be engulfed in the peaceful motion and comfort of the flowing hug.
Daybed: Versatility and Charm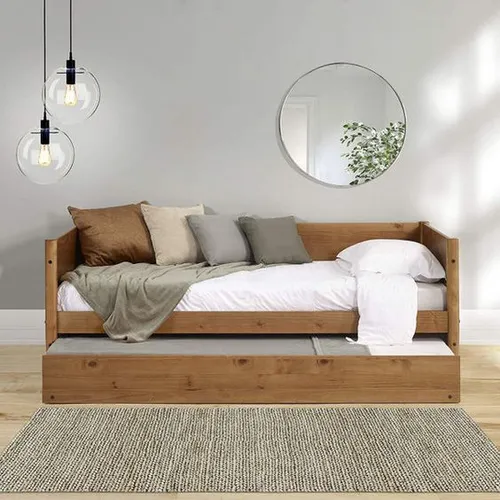 In the realm of inventive furniture, the daybed is the ultimate in adaptability and attractiveness. It serves a dual role, acting as both a comfortable seating choice and an inviting bed, responding to your changing demands. It's an excellent choice for rooms that require practicality without sacrificing beauty. The daybed's exquisite appearance and functionality make it a popular choice for individuals who appreciate flexibility and aesthetic appeal. It perfectly combines practicality and refinement, providing a multifunctional item that is equally appropriate for relaxing and socializing, making it a lovely addition to any living room.
Air Bed: Portable Comfort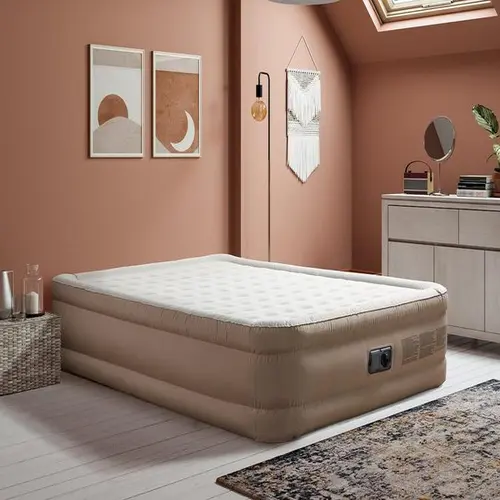 The Air Bed epitomizes portable comfort, providing a simple sleeping option that is easily transportable. This types of bed is ideal for camping excursions or unexpected guests since it gives dependable support and comfort, assuring a peaceful night's sleep no matter where you are. Its lightweight and compact form facilitates setup and storage, providing the requirement for pragmatism and convenience in temporary living situations. The Air Bed's changeable firmness levels allow for tailored comfort, making it a flexible and important component for people looking for a balance of flexibility and comfort in their sleeping arrangements.
Convertible Bed: Versatility at Its Best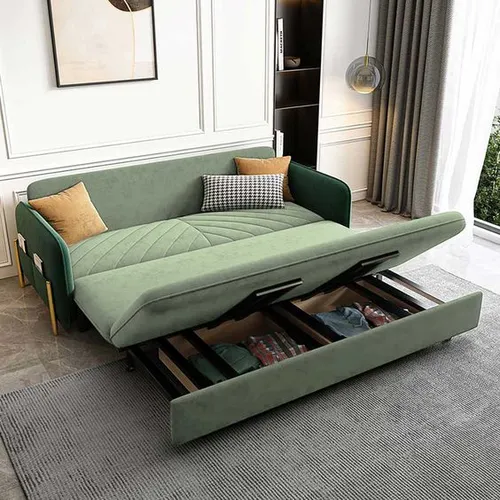 The convertible bed exemplifies versatility, easily shifting to meet the different demands of users. It's a creative solution for houses with limited space, allowing for a smooth transition from sitting to a sleeping area. The design focuses on user comfort, resulting in a functional and elegant alternative that suits modern living. The adjustable bed is crucial for accommodating unexpected visitors or adapting to multipurpose areas. It embodies adaptability and modern design, elegantly and functionally fulfilling the changing needs of contemporary living.
Bookcase/Storage Bed: A Smart Space Solution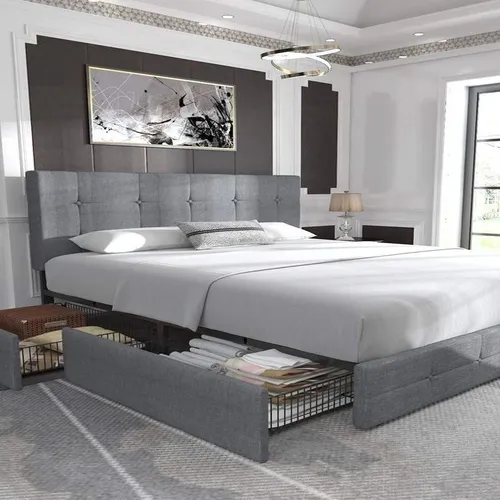 The Bookcase/Storage Bed blends intelligence and practicality to provide a creative space solution for modern households. This revolutionary design seamlessly integrates storage and sleep, allowing customers to easily organize their possessions in the under-bed space. It's a revelation for small spaces, guaranteeing that every square inch has a function. The built-in shelves and drawers are ideal for storing books, linens, and other incidental objects while keeping the space clutter-free. It is the essence of clever design, allowing customers to properly manage their living areas while enjoying the conveniences of a well-organized, beautiful sleeping place.
Murphy Bed: A Compact Choice for Small Spaces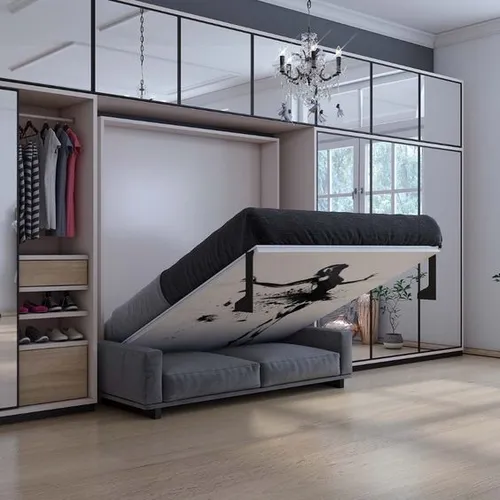 The Murphy Bed is a game changer in the realm of space-saving solutions, providing a compact option for individuals with limited room. When not in use, it cleverly folds into a wall or cupboard to allow enough floor space during the day. This retractable feature is ideal for compact flats or multifunctional areas when space is limited. It mixes comfort, aesthetics, and functionality to give a simplified approach to modern life. When the sun goes down, it changes into a peaceful hideaway, offering a restful night's sleep in your well-organized home.
Divan Bed: Classic Comfort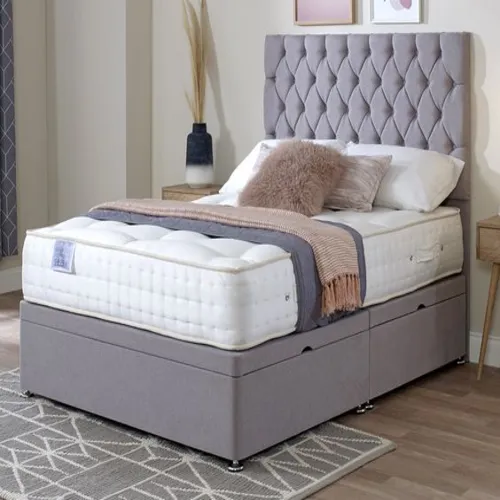 The Divan Bed embodies traditional comfort with a balanced combination of simplicity and utility. Its adaptable design is renowned, and it includes a foundation that provides optimal support, assuring a comfortable night's sleep. The Divan's small shape is a perfect alternative for individuals looking for space savings without sacrificing comfort. Its classic style compliments a wide range of decor, making it a popular option among discriminating homeowners. The divan bed, whether covered with luxurious linens or kept simple, is a symbol of elegance and comfort, a real classic in the world of exquisite sleeping solutions.
Canopy Bed: Embrace the Royal Elegance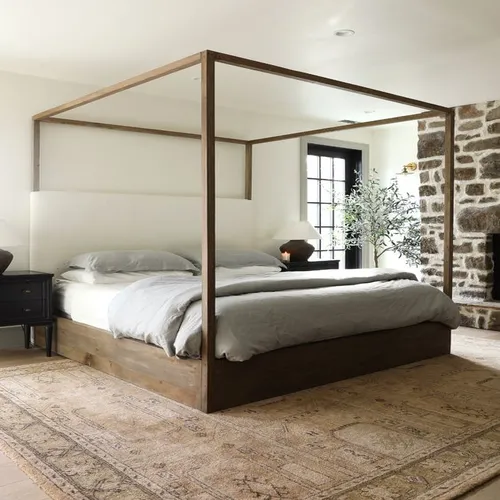 The canopy bed embodies regal beauty and grandeur. Its distinctive four-poster frame and overhanging canopy provide a royal retreat for individuals seeking a sophisticated hideaway. Historically favored by royalty, this types of bed is still a symbol of luxury and grandeur in modern houses. Its massive curtains enclose the sleeper in a cocoon of majesty, providing seclusion as well as a distinct visual appeal. The canopy bed is a classic element that transforms bedrooms into places of regal majesty and quiet isolation, whether covered in luxurious fabrics or left unadorned.
Round Bed: A Contemporary Twist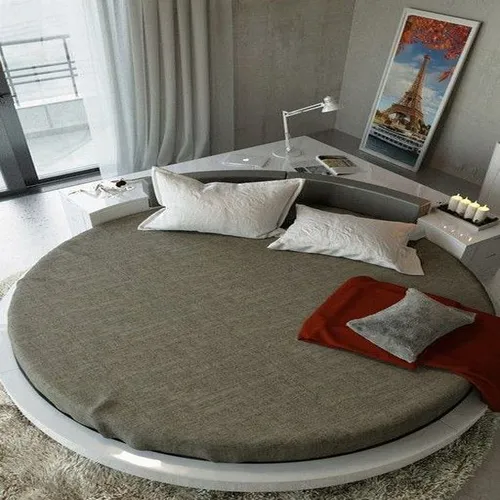 The Round Bed is a modern spin on traditional bedroom furniture, changing the monotony of traditional designs. Its distinct and sophisticated shape attracts people seeking a balance of flair and comfort. This revolutionary design provides a seamless appearance that exudes completeness and fullness, making it a main point in any bedroom environment. Its curved shape creates a comfortable and personal environment, allowing for a liberated sleeping experience. The Round Bed is more than simply a piece of furniture; it's a style and sophisticated statement in today's interior scene.
Hanging Bed: Elevate Your Sleeping Experience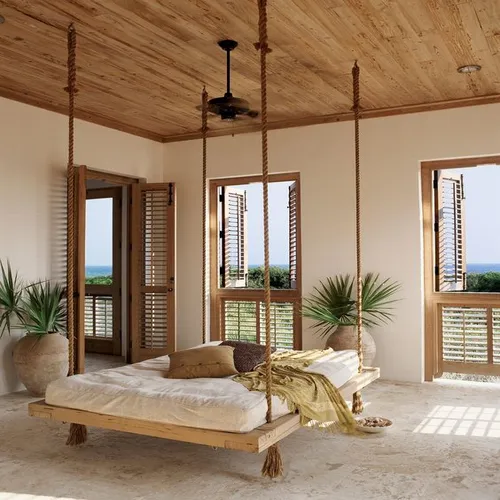 The hanging bed provides an elevated resting experience, actually increasing your degree of relaxation. This unusual sleeping setup hovers above the floor, providing a sensation of freedom and surprise. It blends aesthetic and practical appeal, bringing a whimsical yet refined aspect to your bedroom. A hanging bed, whether suspended by ropes, chains, or other secure ways, adds a new and whimsical touch to rooms, creating a fascinating focal point. A hanging bed actually transforms the usual sleeping experience into an amazing one, making it ideal for individuals who want individuality and want to break free from the customary.
Open-Frame Bed: Minimalism Meets Style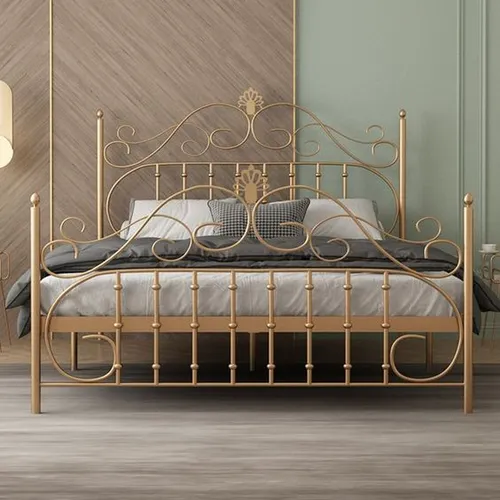 The open-frame bed shows how simplicity and elegance can coexist to create a harmonious bedroom focal point. Its unadorned and clean lines speak loudly, providing a streamlined and sleek appearance that suits a wide range of décor styles. This types of bed combines usefulness and beauty to provide a durable and elegant place to sleep. The open-frame design is a real celebration of simplicity and elegance, appealing to those looking for subtle beauty and clutter-free surroundings. It's a classic option for individuals who value both functionality and a contemporary touch in their sleeping quarters.
Cottage Bed: Embrace the Countryside Charm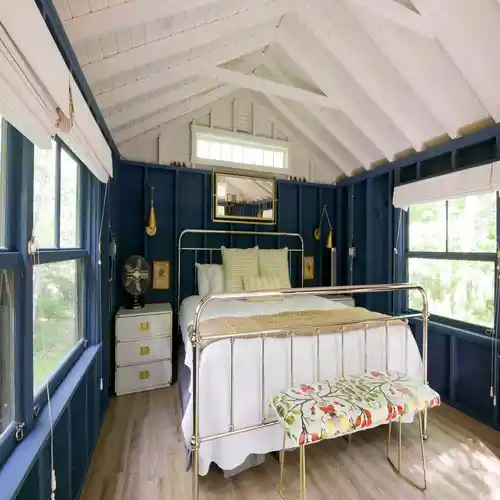 The Cottage Bed encourages you to immerse yourself in the timeless beauty of the countryside. This design, known for its charming aesthetics and soothing mood, offers a tranquil haven in your bedroom. Its exquisite details and complex decorations exude warmth and heritage. The cottage bed is linked to comfort and meticulous craftsmanship, offering a nostalgic look back at simpler times. It embodies rustic appeal, making it a great choice for individuals seeking a touch of pastoral elegance as well as a calm spot to rest and revitalize every night.
Woven Bed: A Tapestry of Comfort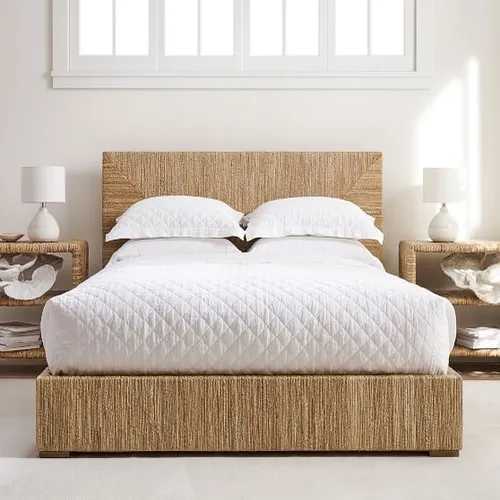 The Woven Bed is a woven tapestry of comfort and artistic expression that perfectly blends usefulness and aesthetic appeal. Its rich patterns and textures, expertly woven, provide a one-of-a-kind and tactile experience, boosting the mood of any bedroom. This bed is more than simply a bed; it's a celebration of workmanship and design, transforming sleeping areas into havens of relaxation and tranquility. Each strand interlaces to form a coherent and long-lasting structure, creating an exquisite aesthetic and sensual delight ideal for people looking for a unique and pleasant resting environment.
Conclusion: A Bed for Every Dream
As we conclude our journey through the various types of beds, we understand that each bed is a universe in itself, catering to diverse needs and preferences. Whether it's the royal charm of the four-poster bed or the modern practicality of the Ottoman bed, each type resonates with different lifestyles and desires.
When choosing from different kinds of beds, it's essential to consider not just the aesthetic appeal but also the functionality and comfort they bring to our lives. The journey of exploring these types of beds is a step towards finding our perfect refuge, a sanctuary where our dreams intertwine with reality.
Each bed tells a different story, a narrative of style, comfort, and innovation. So, let's embrace the diversity in the types of beds, finding the one that aligns with our dreams, and enveloping ourselves in its comforting embrace, night after night.
FAQs on Types of Bed
1. What are the most common types of bed designs on the market?
Platform beds, sleigh beds, canopy beds, Murphy beds, and adjustable beds are some of the styles available.
2. Which of the numerous types of beds is ideal for tiny spaces?
Murphy beds are ideal for tiny rooms since they fold up into the wall when not in use.
3. Which of the following types of beds do not normally require a box spring?
Platform beds do not often require a box spring since they have a sturdy platform to support the mattress.
4. Which types of beds have been shown to provide health benefits?
Adjustable beds can provide health benefits by allowing for elevation variations, which can help with problems such as sleep apnea.
5. Which of the several types of beds may often be altered in terms of design?
While many beds allow for some customization, bespoke designs are most frequent in canopies and sleigh beds.