Dining tables are more than just pieces of furniture; they are the beating heart of your dining room. Your dining table set is important, whether you're having a family meal, a small brunch, or an intimate party. But why settle for the ordinary when the remarkable is available?
This guide will take you on a journey through a world of creative dining table set ideas that will transform your dining room into a fashionable and pleasant area. These dining sets will inspire and enrich your mealtime experience with their unique designs and functional functions.
5-Piece Round Walnut Dining Table Set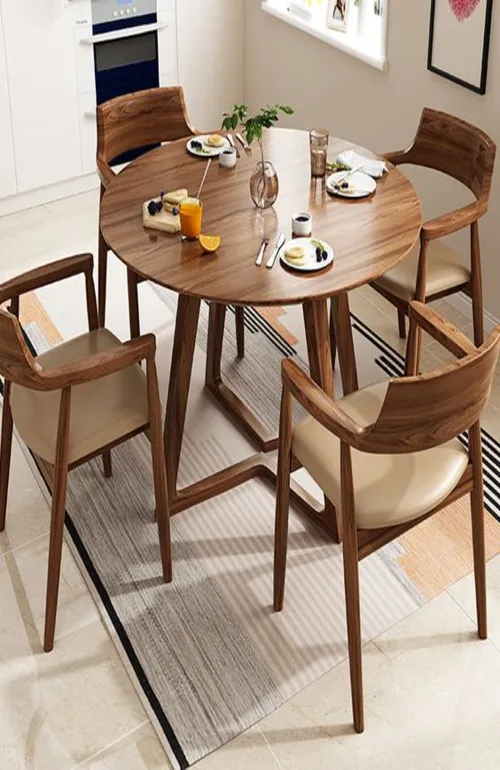 The 5-Piece Round Walnut Dining Table Set is the ideal combination of design and functionality. Its centerpiece, a well-constructed round table composed of dark walnut wood, conveys ageless elegance. This set contains four matching chairs with high-quality fabric or leather upholstery for maximum comfort. The round design, which is ideal for small dining settings, encourages interaction and intimacy during meals while saving space. With this set, you can elevate your dining experience, making every meal a memorable and stylish affair in the comfort of your own home.
Simple Square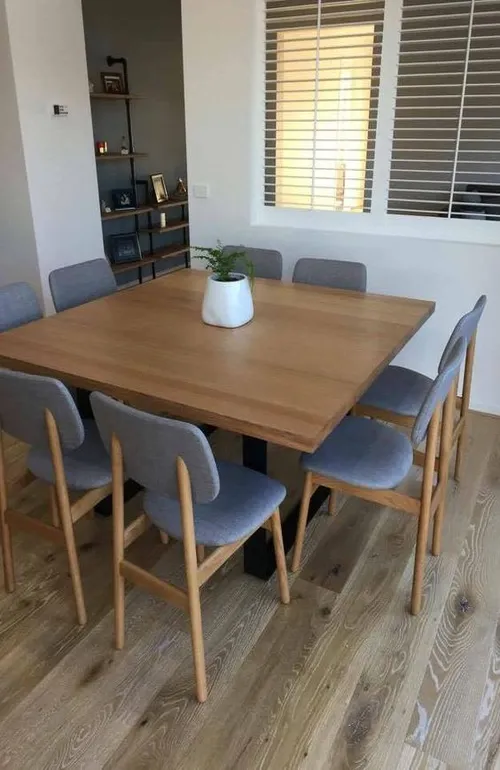 The "Simple Square" dining table set is every minimalist's dream. This set exudes modern refinement with its square table and sleek, unobtrusive seats. Its simple lines and neutral hues offer a modern, uncomplicated look that easily matches any décor style. The design's simplicity allows the beauty of your dining environment to shine through, making it a perfect choice for individuals who value the elegance of minimalism. The "Simple Square" dining set is the ideal choice for your house if you want a dining set that fits smoothly with diverse design styles while exuding a feeling of balance and order.
Vintage Curved Legged Look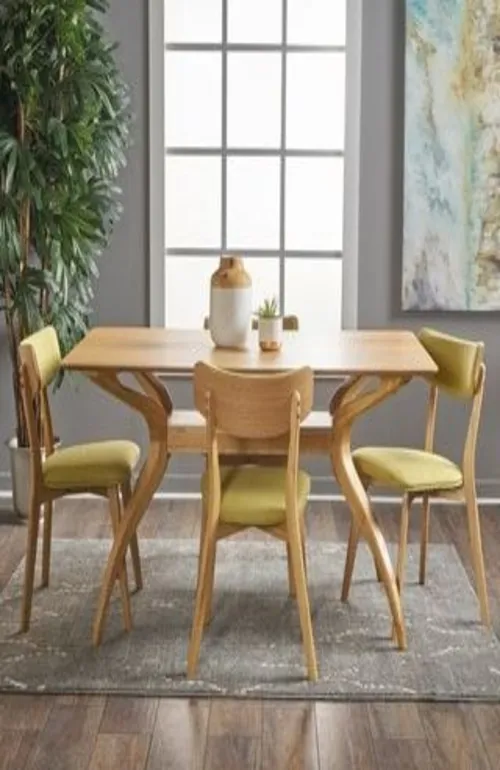 The dining table set "Vintage Curved Legged Look" oozes ageless charm and character. This set includes a rectangular table and chairs with gently curved wooden legs that are reminiscent of mid-century style. The vintage-inspired design pays homage to a bygone period, providing a nostalgic touch to your dining environment. These dining sets provide more than just good looks; they also provide strong and comfy seats for memorable dinners and get-togethers. If you like the combination of old-world beauty with modern functionality, the "Vintage Curved Legged Look" dining table set is a lovely way to add a touch of vintage elegance to your house.
One with U-Shaped Legs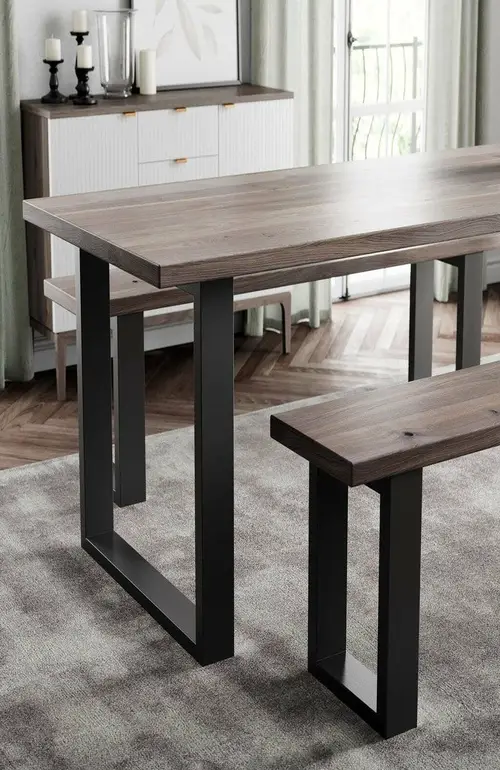 The dining table set "One with U-Shaped Legs" has an eye-catching and modern style. Its rectangular tabletop is supported by U-shaped legs, giving it a one-of-a-kind visual appeal. This contemporary dining set adds a touch of flair to your dining environment. The U-shaped legs not only add to the set's looks, but also provide stability and sturdiness. The "One with U-Shaped Legs" is a compelling pick that will make a statement in your house if you are looking for a dining table set ideas that shines out as a piece of art while serving its primary duty with flair.
Scandinavian Style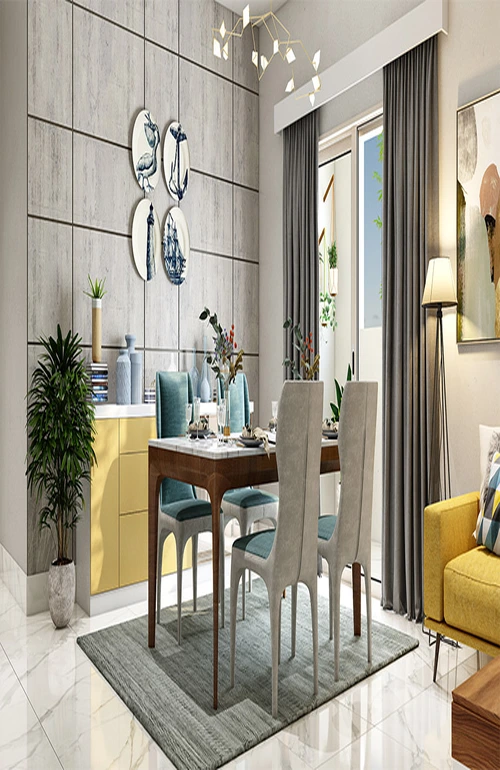 The dining table set "Scandinavian Style" is a celebration of simplicity, functionality, and natural materials. This set is often comprised of a light wood table paired with chairs that have clean lines and muted colors and are inspired by renowned Scandinavian design concepts. It emanates a comfortable, understated elegance that invites warmth into your dining room. The Scandinavian style, known for its simple yet inviting aesthetics, adds a sense of hygge (coziness) to your eating environment. The "Scandinavian Style" dining set is ideal for creating closeness in your house because it generates a comfortable ambiance and naturally fits with diverse interior styles.
Mid-Century Tulip Table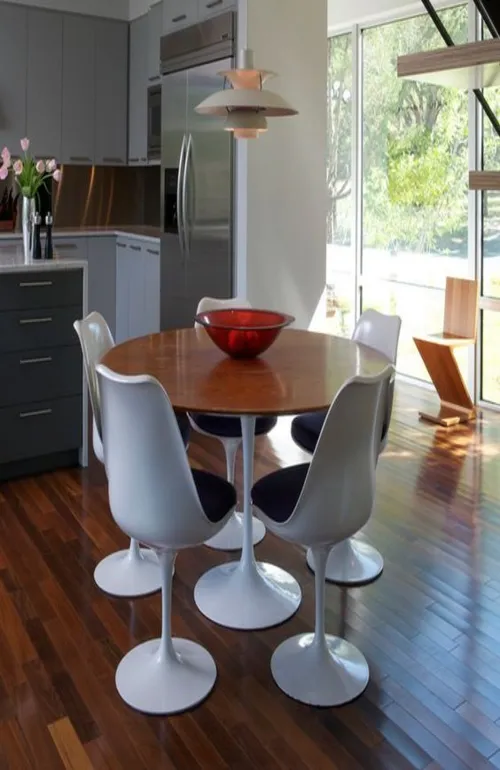 The dining set "Mid-Century Tulip Table" is a true illustration of mid-century modern design. The round tabletop is supported by a single, slim stem, giving it a dramatic yet elegant appearance. This distinctive design not only lends a retro refinement to your dining table set ideas, but it is also excellent for compact spaces. The "Mid-Century Tulip Table" is a classic choice for individuals who love the merging of organic curves and clean lines in a single piece of furniture, providing both visual appeal and effective space management.
Curvilinear Wooden Base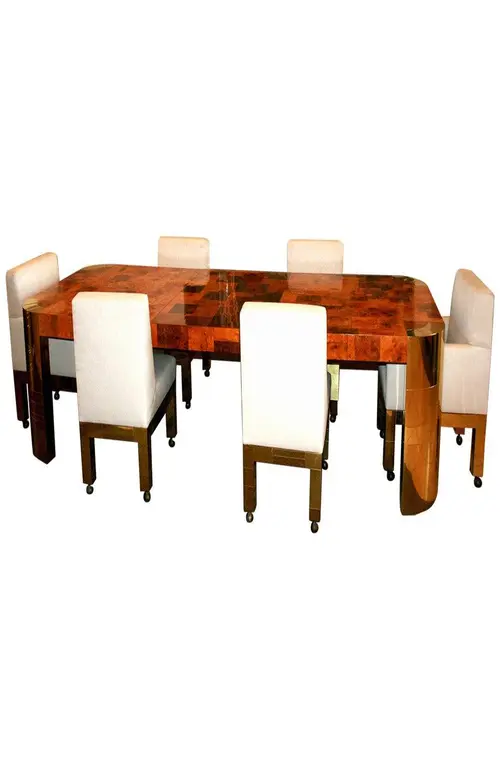 With its remarkable curvilinear base, the "Curvilinear Wooden Base" dining table set ideas exemplify artistic design. This set, when matched with a glass tabletop, makes a fascinating centerpiece for your dining room. The curving hardwood base adds a sculpture element to your area, blending form and function in a lovely union. It not only serves as a functional dining surface, but it also serves as an artistic discussion piece. If you want furniture that combines aesthetics and utility, the "Curvilinear Wooden Base" dining set is an excellent choice that adds a bit of artistic flair to your room.
Upholstered in White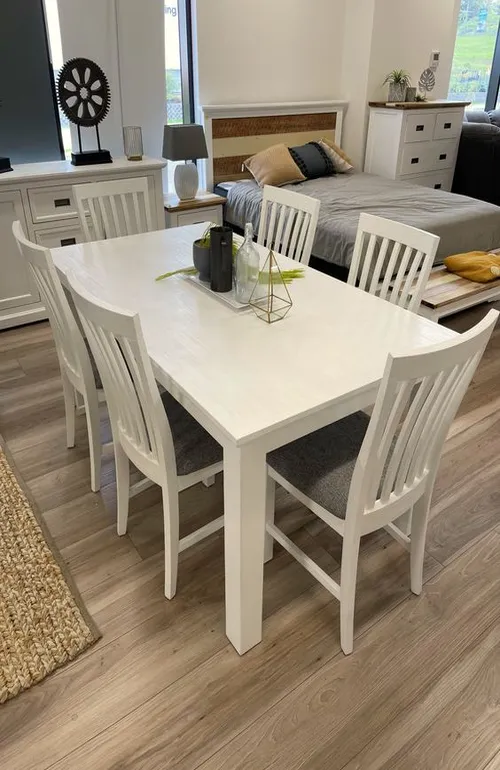 The dining set "Upholstered in White" exudes timeless beauty and purity. This set emanates sophistication and grace, with seats upholstered in high-quality white cloth or leather. White is a versatile color that works well with a variety of decor types and color combinations. This dining set provides a beautiful and attractive seating arrangement for a formal dinner or a casual breakfast. It gives a sense of freshness and sophistication to your dining space by creating a clean and airy ambiance. If you love the timeless elegance of white and want a dining set that exudes purity and refinement, the "Upholstered in White" is an excellent choice for your home.
Logs of Pine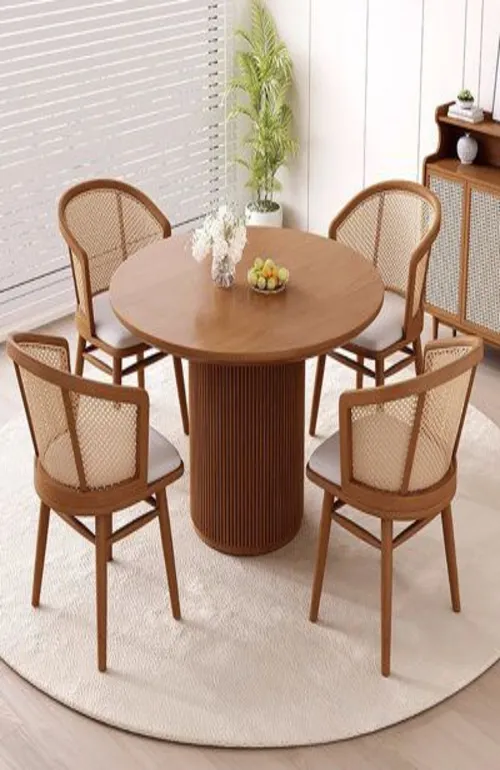 The "Logs of Pine" dining table set idea is inspired by the rustic beauty of pine wood. This set frequently includes a rectangular or round table made of solid pine logs, emphasizing the wood's natural beauty and character. Pine's rustic yet warm appearance adds a touch of natural elegance to your dining area. Pinewood adds a sense of authenticity to your area due to its resilience and unique grain patterns. If you enjoy the natural beauty and strength of wood and wish to infuse your dining area with a pleasant, rustic feel, the "Logs of Pine" dining set is an excellent choice.
Wooden Table with Colorful Chairs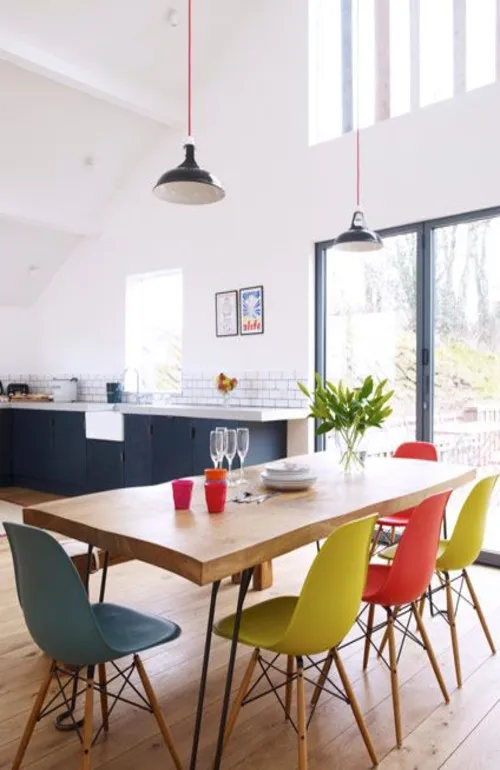 A dining set with a "Wooden Table and Colorful Chairs" is a fun and vivid option for your dining room. This set often consists of a hardwood table combined with chairs in vibrant colors. The oak table serves as a warm and classic backdrop, while the colorful chairs add a fun flash of color. This combination produces a bright and welcoming ambiance that is ideal for family gatherings or informal dinners. The "Wooden Table with Colorful Chairs" dining set is an ideal choice to upgrade your space and make meals a dynamic and delightful experience if you want to infuse your dining area with vitality and a touch of whimsy.
Leather Inserts


A dining set with "Leather Inserts" adds a luxurious and sophisticated touch to your eating experience. These sets typically include chairs with leather upholstery, either as accents or covering the entire seat. The use of leather in conjunction with wood or other materials provides a strong visual contrast. Leather gives not just elegance but also comfort and durability. It's simple to maintain and ages well, making it an excellent choice for dining chairs. If you want a dining set that combines design, comfort, and longevity, the "Leather Inserts" option is an ideal way to add grandeur and timeless appeal to your dining space.
Glass-Top Dining Table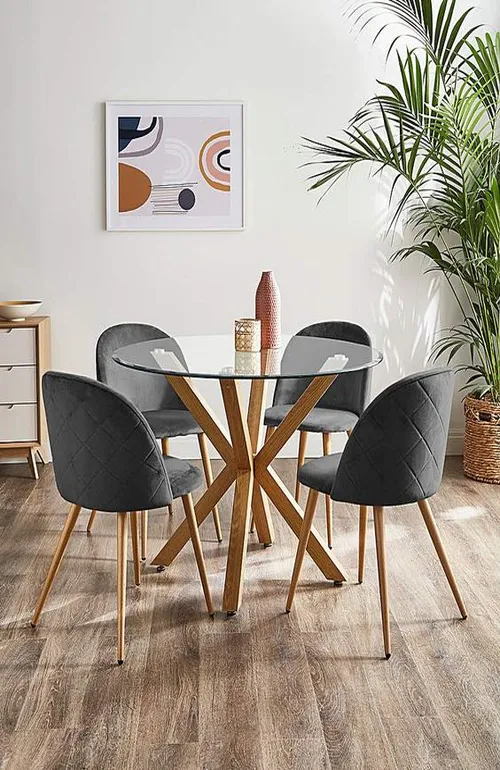 A "Glass-Top Dining Table" embodies modern elegance. This dining set adds a touch of refinement to your room with its sleek and translucent glass tabletop. The glass's see-through quality offers a sense of openness, making it an excellent choice for smaller dining settings. It allows you to admire the table's base or legs, making it a work of art in and of itself. Furthermore, the glass is simple to clean and maintain, ensuring that your dining table remains as lovely as the day you bought it. A glass-top dining table is an excellent choice for a modern and visually attractive centerpiece for your dining room.
Oval Table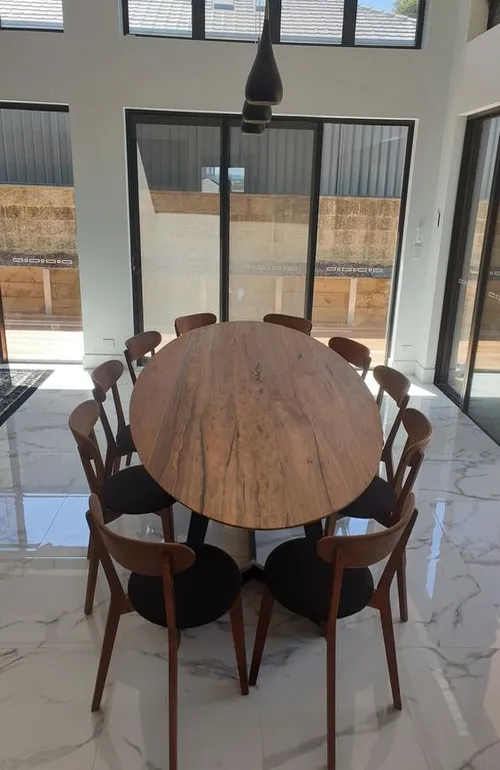 An "Oval Table" dining set is a welcome change from the more traditional rectangular or square selections. An oval table's beautiful curvature not only adds a sense of beauty to your dining space but also fosters conversation and engagement among diners. This shape allows for a variety of seating arrangements, making it ideal for both private family dinners and larger gatherings. An oval table seamlessly matches many decor aesthetics, whether your style is traditional or modern. An oval table is a compelling choice that can transform your dining area into a welcoming and fashionable sanctuary if you're looking for a dining set that blends functionality with a sense of luxury.
One with a Tapered Base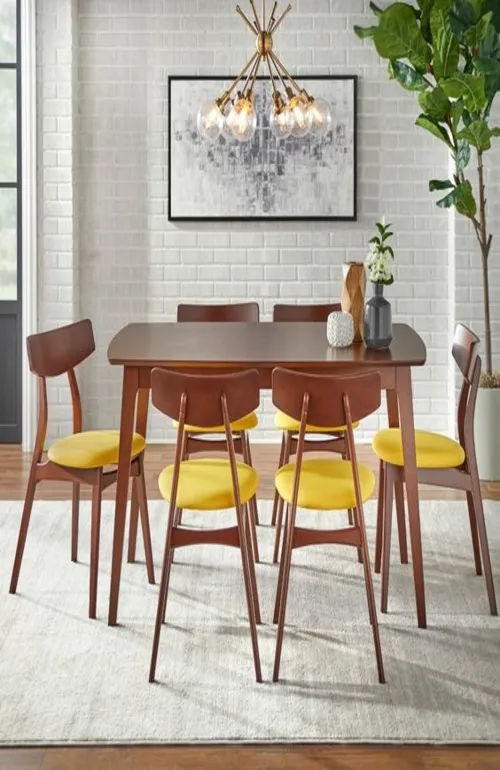 A dining table set with a "One with Tapered Base" design has a contemporary and streamlined appearance. The tapering base of the table is the most prominent feature, providing a strong visual contrast to the tabletop. This design provides a modern touch to your dining area while also making a beautiful statement. The tapering base not only adds to the aesthetics of the table but also assures stability and sturdiness. It's a wonderful choice if you want a dining set that seamlessly mixes form and function, boosting the overall appeal of your area. The "One with Tapered Base" design exemplifies the elegance of deliberate design in everyday furniture.
Black and White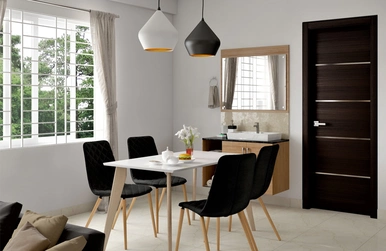 A "Black and White" dining set embodies ageless contrast and sophistication. This traditional color combination makes a strong visual statement, whether it's in the form of seats, a table, or both. The sharp contrast of black and white oozes elegance and adaptability, allowing it to blend in with a variety of interior styles. It's a timeless design decision that transforms your dining room into a canvas for both modern and traditional aesthetics. If you admire the power of monochrome simplicity and want a dining set that will last, "Black and White" is a timeless option that exemplifies stylish elegance.
Miscellaneous Chairs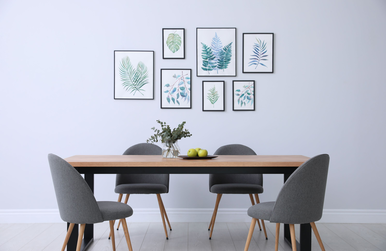 A dining set with "Miscellaneous Chairs" provides an eclectic and one-of-a-kind dining experience. Each chair around the table is unique in this innovative method, with different designs, colors, or styles. This mix-and-match idea gives a sense of surprise and flair to your dining space. It promotes creativity and self-expression while maintaining a casual and relaxed atmosphere. A dining set with a variety of seats is great if you enjoy variety and a bit of quirkiness in your design. It shows an open-minded attitude toward design and may turn every mealtime in your house into a delightful adventure.
Black Marble Tabletops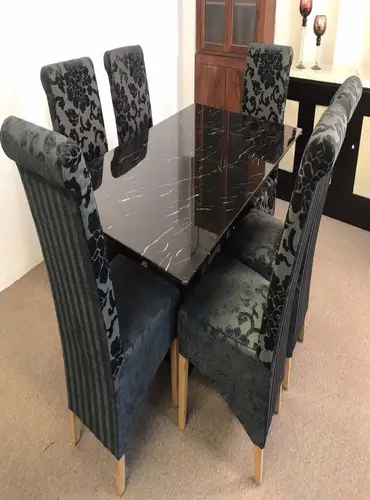 "Black Marble Table-Tops" dining sets ooze grandeur and sophistication. The rich black marble surfaces of these tables are noted for their timeless beauty and durability. Marble's natural veining patterns offer a touch of individuality to each piece, making it a show-stopping centerpiece. Black marble's dark, exquisite tone matches a wide range of décor styles, from traditional to contemporary. It not only provides a spectacular visual focal point but also a smooth and cool dining surface. "Black Marble Table-Tops" are an outstanding alternative for bringing your dining area to new heights of elegance if you are looking for a dining table set idea that symbolizes both luxury and practicality.
The Extendable Designs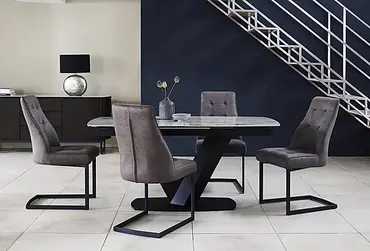 Dining sets with "Extendable Designs" demonstrate adaptability and functionality. These tables include clever mechanics that allow them to expand and contract as required. This feature is a game changer, especially when hosting guests or addressing different eating area needs. With expandable tables, you can easily go from intimate family dinners to large groups without sacrificing aesthetics. These designs are versatile without sacrificing beauty, and they frequently use beautiful finishes and materials. If you value functionality and adaptability in your dining space, "The Extendable Designs" are a fantastic option that ensures your dining table set ideas adapts to your needs, ensuring a comfortable and attractive dining experience.
Oak Table-Top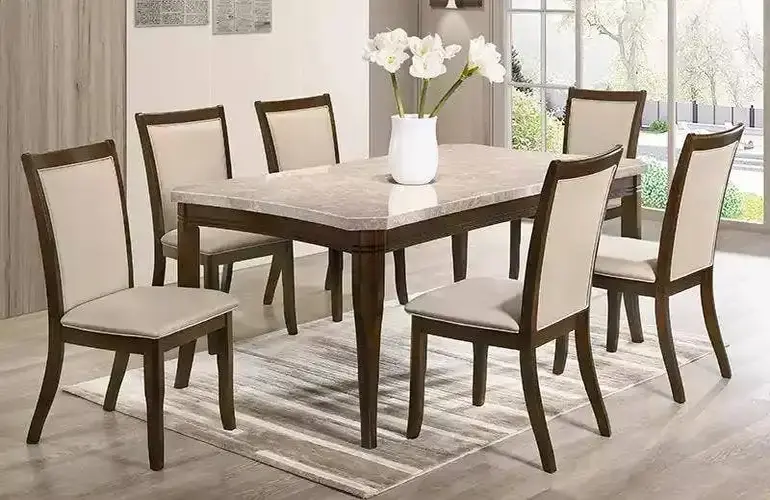 An "Oak TableTop" exemplifies natural beauty and durability. Oak is well-known for its strength and character, and it makes an excellent dining table top. Its rich, warm tones and distinct grain patterns lend a rustic elegance to your dining room. Oak tables are not only visually pleasing but also durable, having the capacity to survive the rigors of daily use. An oak tabletop compliments a wide range of decor aesthetics, whether your style is conventional or futuristic. The "Oak Table-Top" is an ideal choice for your house if you like the attraction of natural materials and want a dining set that oozes timeless elegance.
Incorporate Burl Wood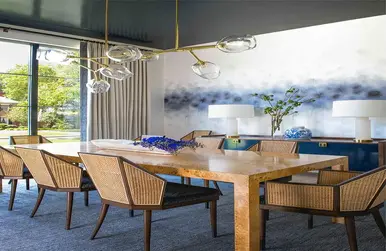 For individuals who enjoy the extraordinary in furniture design, incorporating burl wood into your dining table is an outstanding choice. Burl wood is famous for its intriguing, uneven grain patterns, which result in one-of-a-kind and eye-catching sculptures. It lends a touch of natural creativity to your area when placed on dining tables. The warm, earthy hues and swirling swirls of burl wood make each table a one-of-a-kind beauty. It integrates form and function flawlessly, providing both aesthetic appeal and durability. If you're looking for a dining set that lifts your space to a realm of unrivaled beauty and personality, integrating burl wood is an option that turns your dining area into an artsy refuge.
Six-Seater Dining Table Sets Are Not Commonplace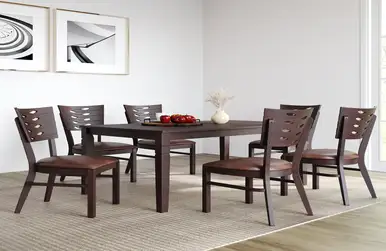 Six-seater dining table sets are a departure from the norm and provide a one-of-a-kind dining experience. While four-seater sets are more typical in most homes, a six-seater set adds adaptability and space. These sets are intended to accommodate larger families or groups of friends. They promote a sense of community and inspire vibrant conversation at mealtime. With the additional seating, you can entertain friends or simply enjoy a more spacious dining experience. A six-seater dining table set is a striking choice for your house if you want a dining set that stands out and stresses efficiency without sacrificing aesthetics.
Pedestal Dining Table Sets are Chic.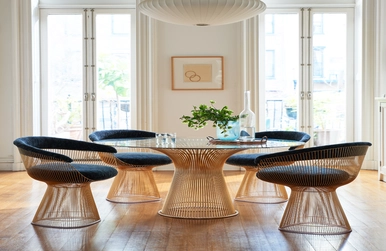 Dining table sets with pedestal bases exhibit stylish elegance and timeless appeal. The central pedestal that supports the table eliminates the need for typical legs, making these sets stand out. This design not only has a clean and uncomplicated appearance, but it also allows for flexibility in seating arrangements. Everyone can sit comfortably around the table with no obstructing legs, generating a sense of connection throughout meals. Pedestal bases are available in a variety of styles, ranging from traditional to contemporary, making them ideal alternatives for any dining setting. Pedestal base dining table sets are the height of sophisticated sophistication if you want a dining set that mixes aesthetics with practicality and creates a sense of oneness.
Four Seaters Dining Table Sets Are Versatile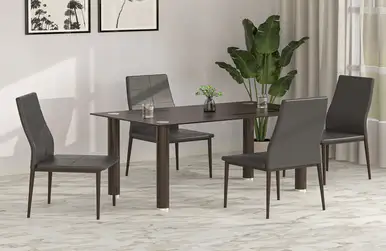 Four-seater dining table sets are quite versatile, making them a popular choice for a variety of dining environments. Their tiny size makes them appropriate for smaller rooms or apartments when space is limited. Their adaptability, however, extends beyond their size; they may accommodate intimate family dinners or even serve as a pleasant backdrop for romantic feasts. Furthermore, they are available in a variety of styles, materials, and designs, guaranteeing that you may discover the right match for your decor. A four-seater dining table set delivers both functionality and flair in one small package if you value adaptability and efficiency in your eating space without sacrificing aesthetics.
Solid And Reliable Wood Is homely And Charming


In furniture design, solid and durable wood has a homely and pleasant appeal. Wooden furniture, whether oak, walnut, cherry, or other hardwood, adds warmth and character to your living spaces. Its natural grain patterns and rich tones create a warm atmosphere that transcends fashion. Wooden components are not only aesthetically beautiful; they are also sturdy and long-lasting. Wood's tactile feel gives a welcoming touch to your house, urging you to relax and unwind. Solid wood is the ideal foundation if you want a classic and dependable solution that infuses your living area with a sense of comfort and enduring beauty.
Nothing Beats The Opulence And Class Of Marble Dining Table Sets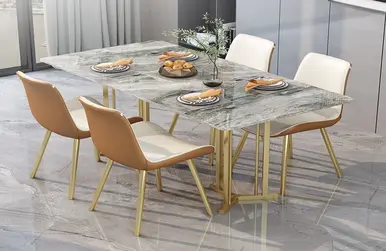 Nothing beats the grandeur and sophistication of marble dining table sets. Marble, a symbol of elegance and sophistication, elevates any dining room to an elegant setting. Its smooth, shiny surface exudes timeless beauty and is frequently decorated with distinctive natural veining patterns. Marble tables exude refinement and grandeur, making every meal an unforgettable experience. Beyond looks, marble is sturdy and easy to maintain, ensuring that your investment lasts. If you're drawn to the pinnacle of luxury and want a dining set that exudes luxury and taste, marble dining table sets are an unrivaled option that embodies extravagance and ageless attractiveness.
Smaller Dining Table Sets For Compact Spaces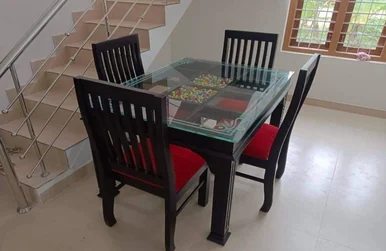 Smaller dining table sets are ideal for cramped quarters. These sets are made with efficiency in mind, so you can enjoy a comfortable dining experience without crowding your space. They are space-saving and come in a variety of styles, ranging from minimalist to multifunctional, allowing you to make the most of your limited space. Smaller dining sets give functionality without losing aesthetics, whether you have a cozy apartment, a breakfast nook, or a small dining room. They encourage close-knit gatherings by creating an intimate atmosphere for meals. Smaller dining table sets are a smart and beautiful solution for your small living space if you enjoy the art of space efficiency.
The Shape Of Your Dining Table Set Matters
The shape of your dining table set is more important than you may believe. It affects not just the visual appeal of your dining space, but also the dynamics of your meals. Round tables promote interaction and a sense of community, making them excellent for small parties. Rectangular tables are timeless and provide a classic aesthetic while supporting larger parties. Square tables are ideal for creating a pleasant and harmonious setting. The shape you select should complement your space and eating requirements. So, when choosing a dining table set, keep in mind that its shape is important in setting the tone for your eating experiences.
Round Dining Table Set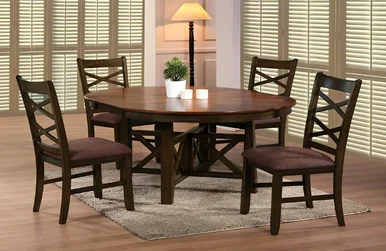 Round tables are naturally conducive to conversation and fellowship. They create an intimate dining environment in which everyone can see each other, making it easier for all attendees to converse. The absence of abrupt corners also contributes to the room's flow and harmony. Round tables are good for tiny dining rooms since they optimize seating capacity without dominating the space. Their symmetrical shape complements a wide range of home designs, from conventional to contemporary.
Square Dining Table Set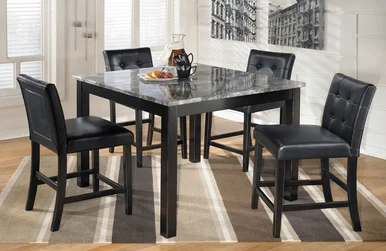 Square tables emanate a sense of balance and order. They are well-known for their clean lines and modern appeal, making them ideal for modern environments. Square tables are popular in small dining settings because they maximize space. They give equal seating on all sides, resulting in a balanced and ordered arrangement. Depending on the material and design, square dining sets can suit a variety of styles.
Conclusion
Innovative dining table set ideas can dramatically improve your dining experience. Whether you choose a classic and timeless aesthetic or a modern and artistic design, there is a dining table set that will completely suit your taste and needs.
Consider the size of your dining room, the number of people you normally host, and your particular aesthetic tastes when purchasing a dining table set. With the proper dining table set, you'll not only enjoy wonderful meals but also make memorable memories in a space that reflects your distinct style.
So, redesign your mealtime and allow your dining table set to be a reflection of your love for style and practicality. With these creative ideas, your dining room will become the heart of your house, a gathering spot for family and friends to enjoy laughs, tales, and, of course, delicious meals.