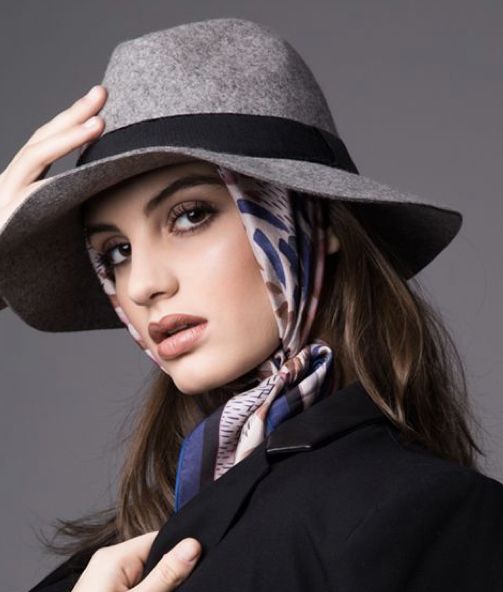 You've put together a stunner of an outfit and are ready to show the world your style. You're on your way out, but one last look in the mirror and you realise something's missing: your ensemble could do with a touch more colour and texture. Say hello to scarves, those ingenious accessories that can do wonders to instantly amp up your look. Maybe you could use a luxurious polka dot silk number that immediately puts the fun back into formal wear, or a funky geometric printed one that your friends will absolutely envy. Whatever your style is, scarves can take you from blah to fab in a snap. Find out what's trending and how to make every outfit rock with these mini marvels. Our fashion guide opens your eyes to scarf basics from fabric to designs and everything in between.
Best Scarves for Summers

Come summer and there's nothing better than slipping into light, breathable clothes that keep you cool. Scarves of the sheer, gauzy variety are what you need to accessorise summery ensembles. This means cotton, chiffon, and other cooling fabrics. You can go wild with colours and prints as well as with embellishments and embroidery. We're partial to scarves with funky prints and short knotted numbers that easily put the zing back into everyday outfits.
Chiffon
Who can say no to chiffon? The gorgeous fabric is a designer's dream, which means you can get your hands on numerous fabulous creations without any trouble. This easy-to-maintain fabric works great with both casual and formal attire. You can pick a multi-coloured chiffon scarf to wear with a solid black shirt and a pair of cream trousers for an office look that blends professionalism and fun. Knot it around your neck, leaving the ends loose to casually fall over one shoulder. The splash of colour will get rid of any drabness that office wear can sometimes have.
Cotton
Cotton scarves are must-haves, especially if you live in warm regions. They keep you cool, last long, and come in many colours and designs. Pastel colours, ombre styles, and delicate prints are our favourites. They look amazing with Western and ethnic casual wear like T-shirts and kurtis. Loop a lovely cotton scarf around your neck to pep up a neutral-toned khadi top and a pair of skinny jeans. Give the outfit even more desi flavour with a pair of mojris and silver jhumka earrings. Slinky cat-eye liner and a loose bun will add the right amount of sexiness that your date will find irresistible!
Linen
If there's one ace summer fabric, it's linen. Very breathable and cooling, it looks gorgeous on everyone. Choose a linen scarf in a vivid colour such as red or orange and drape it around your neck to bring alive white tops and grey shirts. For a formal affair, we suggest going for a two-toned scarf with a striking border, or a printed scarf in rich colours. Guys can prepare to look utterly dapper when pairing one with a grey suit and a black overcoat. Ladies can look just as stylish and show off their new buy with a boat-neck top and lightly printed palazzos. For a formal look, slip into slim-fit trousers and a smart jacket.
Best Scarves for Winter

You may think it isn't worth the bother of having separate scarves for summer and winter, but trust us when we say it is! Fabrics like cotton, chiffon, and linen are cool to the touch, which means one of these around your neck in winter will probably leave you with the shivers. Instead, pick thicker materials that keep you warm and help you look super fashionable. The best winter scarf fabric is–you guessed it–wool. Thicker and usually closely knitted, it will chase away the chills. However, prepare to shell out a bit more for it because pure wool is expensive. If you don't want to spend big bucks, woollen blends work almost as well. They also come in numerous colours and prints and go excellently with most winter outerwear, especially stylish coats and jackets. Choose a soft red scarf to peek out from under a fabulous top coat or a winter jacket. We recommend choosing warm leggings or wool blend trousers and boots for the finishing touch.
How to Style Scarf

Scarves can be worn all year round and are one of the few accessories that you can go all-out with. Let's say you have a meeting to get to and want to spice things up without seeming too wild. Just pick a scarf in a fun design and it'll jazz up your look like little else. Most women's pantsuits could use a bit of oomph; a zebra print scarf would do the trick. Solid men's business suits can be given terrific texture with a paisley print scarf. These and more come in several styles, all of which we love and recommend!
Bandana Style Scarf

Forget trying to shape a large scarf into a neat triangle; with the bandana style, a quick fold is all it takes. We love edgy designs that give voice to your inner rebel! Think graffiti prints, skull and bones, and multi-colours that accentuate any outfit. Tie a bandana style scarf around your head the next time you're headed to a happening concert. Let it accessorise a fitted black jacket, skinny jeans, and ankle boots for the perfect rocker-inspired look.
Stole
If elegance is the need of the hour, nothing says it better than an elongated scarf or a stole. The large piece of fabric can be styled in a multitude of ways. Longer scarves look amazing with tunics, kurtis, and fitted tops. You can wear one with its ends hanging loose over your shoulders, or tie the ends together to create a cosy wrap. Shorter scarves can be worn with T-shirts and cropped tops for a fun and playful touch.
Infinity Scarf
A third style of scarf, known as the infinity scarf or more commonly as the snood, is our top pick for anyone looking to enhance casual and smart-casual wear. It can be looped around your neck to keep you warm or around your head for a slouchy beanie effect. Choose a vibrant printed snood to pep up a solid white T-shirt and ripped denim shorts for a spunky, casual style. You can also team up a dressier design with a tailored dress and a collarless jacket or with a light pullover and trousers.
Scarves are one of the easiest accessories to buy online. You don't need to worry about size or fit. Just pick a design you like in a fabric to suit the season and you're done. Get out that drab top that's been gathering dust in your wardrobe and watch it come alive with a stylish scarf. Give conventional business attire a much needed edge with a printed chiffon scarf in rich maroon. Stock up on different styles from our gorgeous selection and discover the fun of accessorising. Buy scarves and let them weave their magic.