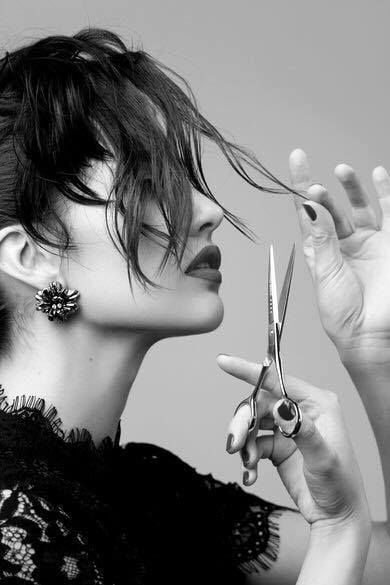 Women today do not have much time in their hands. Yet they manage to squeeze out some time to head to a salon because they wish to look good. But then, before you too decide to do so, consider asking yourself some simple yet pertinent questions. What's the kind of look you have in your mind? Going for the good old usual look? Or looking to experiment? If you have the second thought in mind, this article is made for you.
Our hairstyle form the foundation of our face's overall appearance. Few wrong snips and your desired look is out for a toss. But why is that so? Why a hairstyle that worked on your friend doesn't suit you? The answer lies in your and her face shape. Face shapes have been the most underrated aspect on our appearance despite having a major impact on it. Which is why, this article has been drafted to enlighten our audience about it.
Face shapes have been classified into 4 major types. Here is a list that explains each face shape in detail along with relevant hairstyles.
Hairstyle Tips For Round-shaped Faces
Found your face to be the same in width and length? That's a round face you've got. The best part about such faces is their baby faced look that makes the person look younger. This, also gives you the scope to try out more youthful hairdos.
So, when it comes to styling a round face, focus on elongating the face and making it look more oval. One way to achieve that is to leave some hair untucked on one side of your face. But if you wish to push the envelope, opt for a short pixie cut with volume at the top. There are some interesting textures and angles available without being harsh on the eye.
Hairstyle Tips For Heart-shaped Faces
a heart shaped face is known to be wider at the hairline and temples before gradually tapering to a small, narrow chin with a pointed edge. The stars of such faces are the prominent forehead and cheekbones. For styling heart shaped faces, two options are presented in front of you. One involves accentuating your face shape. The other option involves making the bottom half of your face look wider.
If you wish to accentuate your face, pull your hair up into a high top knot, or space buns (a la Leia from Star Wars). You could also go for a deep side part with loose curls to show off that beautiful face of yours. If you are interested in balancing out your face's features, shoulder length hair is what should be considering. This adds volume to the lower half of your face and creates the illusion of a wider jawline.
Hairstyle Tips For Square-shaped Faces
These faces go really wide with the forehead, cheekbones, and jawline being almost of the same width. With square shaped faces, you could either accentuate the square-ness of your face or soften your strong jawline. Go for some blunt bangs or a short bob to really show off that strong jawline. But if you intend to lighten the squareness of the face, opt for some soft, wispy bangs falling to the side to create diagonal lines. You could also try wearing your hair straight and long while adding layers to draw the eyes down and give some length to your face.
Hairstyle Tips For Oval-shaped Faces
If the length of your face is longer than the width, with a gently rounded jawline that goes narrower than the hairline, you've got an oval shaped face. Thanks to its well-balanced and evenly proportioned features, these faces provide a free hand in hairstyle experiments. But the best results are known to come from styles that keep your hair away from your face and expose your best features.
So, head to the salon and use these points as the basis of your confident experiments with hairstyles. In case you wish to help out a male friend with this particular hairstyle dilemma, we've got covered that before in a previous post linked here. For some such insight into trending aspects of all things fashion, keep following Infifashion!