Dive into the vibrant and diverse world of Dupattas. This piece explores the multitude of designs and patterns available, each reflecting its own unique tradition and culture. The Variety of Dupatta boasts of its adaptability and versatility, weaving stories of elegance and grace.
The Elegant Panorama: Different Types of Dupatta Design

Explore the wide and rich landscape of Dupatta designs, each of which speaks the language of elegance and heritage. The range of Dupatta designs available on the market is absolutely remarkable, ranging from basic, minimalistic patterns to more detailed and intricate ones that reflect the enormous cultural legacy of areas across the country. Each item offers a tale of artistry, workmanship, and regional identity, bringing grace and elegance to any outfit. Whether it's the Banarasi Dupatta, with its gorgeous gold and silver zari work, or the Phulkari, with its colorful, complex embroidery, the variety and richness of the Dupatta are sure to captivate any fashion aficionado. Immerse yourself in this lovely landscape to find the adaptable and elegant drape that complements your style.
Banarasi Silk Dupatta: Woven Royal Splendor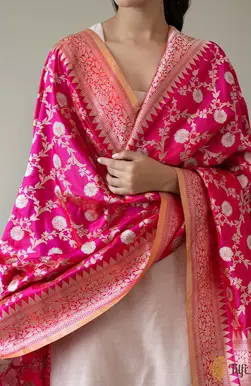 The Banarasi Silk Dupatta, a paragon of regal elegance, reigns supreme among its rivals, standing out among a variety of dupattas. Its exquisite weaving and dazzling threads elevate it to a level of regality, making it appropriate for any big occasion and recounting tales of royal lineages. Dupatta's rich combination of brilliant hues and exquisite textures offers an astonishing marriage of tradition and style, making it a must-have item for anyone seeking refinement and elegance.
Georgette Dupatta: Whispering Elegance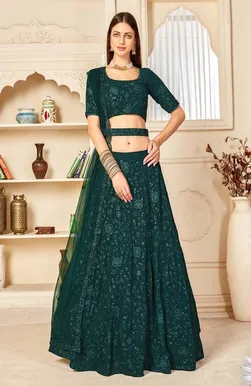 Meet the adaptable and ever-graceful Georgette Dupatta, a lovely item in the great variety of Dupattas. Its simple elegance and crinkly texture tell stories of ageless charm and straightforward refinement, making it the perfect complement for any outfit or event. The variety of dupattas comprises many materials and patterns, but the Georgette dupatta retains a particular position, merging easily with both classic and contemporary clothes, making it a favored option for individuals who love modest elegance and flair.
Chiffon Dupatta: The Gentle Flow of Grace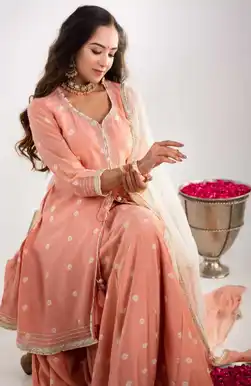 With its light, airy, and translucent beauty, the chiffon dupatta floats across the fashion world. Its easy elegance makes it a go-to option for adding a delicate and gentle touch to your outfit. The chiffon dupatta stands out among the wide variety of dupatta options because it allows for a wide range of styling options. This variety of Dupatta's mesmerizing beauty and subtle sophistication may complement any ensemble, delivering a trendy but refined flare that appeals to a wide range of aesthetic sensitivities.
Handmade Phulkari Dupatta: The Canvas of Vibrancy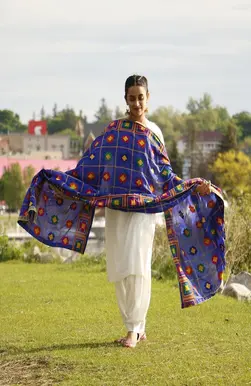 The handcrafted Phulkari dupatta showcases the vibrant spectrum of heritage. Its vivid embroidery and motifs are a monument to Punjab's careful craftsmanship and vibrant culture. The variety of dupattas reflects the vast diversity of design, but the Phulkari stands out with its distinctive, creative embroidery and brilliant palette, expressing regional tradition and artisanal quality. This variety of dupatta is a vivid piece of wearable art that enhances the visual appeal of any traditional clothing.
Pashmina Dupatta: The Warm Embrace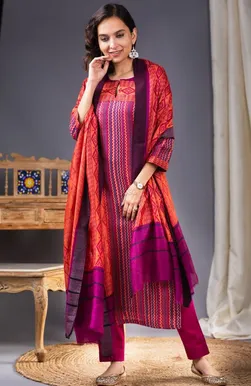 Discover the luscious folds of the Pashmina dupatta. This dupatta, which originated in the valleys of Kashmir, is a symbol of grandeur and beauty in the vast variety of dupattas. Its smooth texture and elaborate motifs make it a winter essential that will keep you warm and stylish. The variety of dupattas is vast, but the pashmina, with its delicate warmth and refined beauty, has a distinct fascination, adding a classy touch to your winter wardrobe while representing artisanal expertise and legacy.
Velvet Dupatta: Royal Drapes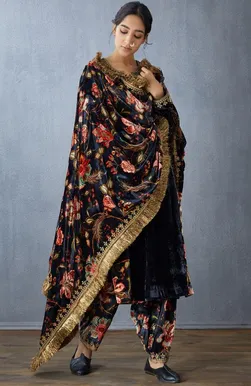 The velvet dupatta communicates majesty and wealth. Its velvety fabric and rich texture make it an excellent partner for formal events, producing a regal silhouette and enhancing your presence with royal charm. The velvet variation stands out among the wide variety of dupattas, exuding an air of regality and grandeur. This variety of dupattas is a hallmark of elegant elegance, engulfing one in its luscious warmth and giving a touch of imperial grace to the ensemble.
Digitally Printed Dupatta: Modern Artistry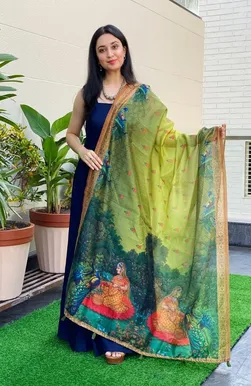 The digitally printed dupatta will take you into the modern era. The combination of current technology and artistic designs provides a wide range of patterns and colors, allowing you to create a statement with each drape. The digitally printed dupattas are a mix of traditional and contemporary. This variety of dupatta is a canvas for artistic expression, appealing to a wide range of elegant aesthetic tastes and allowing individuals to demonstrate their style with flair and refinement.
Zardosi Work Dupatta: Glittering Elegance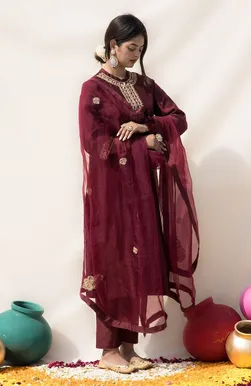 The sparkle of the Zardosi Work Dupatta illuminates the richness of meticulous craftsmanship. This royal piece, with its intricate metallic embroidery, adds a shimmering layer to your ensemble, embodying luxury and tradition in each thread. It is a shining star in the variety of dupattas, reflecting the detailed artistry and elegance inherent in traditional attire. This variety of dupattas is a testament to the skilled craftsmanship that transforms an outfit, creating a symphony of regality and detailed finesse.
Kalamkari Dupatta: Painted Perfection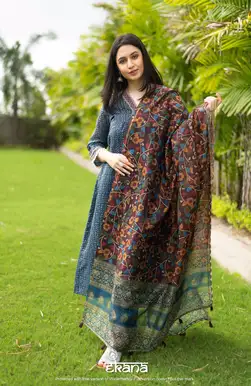 The Kalamkari Dupatta is a vivid canvas that has been created with accuracy and inventiveness. It represents the union of art and fashion, telling stories through vivid and complex hand-painted or block-printed motifs. Kalamkari is a respected variety of dupatta, showing the craft's aesthetic genius and cultural complexity. With every fold and color, this variety of Dupatta tells historical stories and customs. It is more than simply an accessory.
Kantha Embroidered Dupatta: Stitched Stories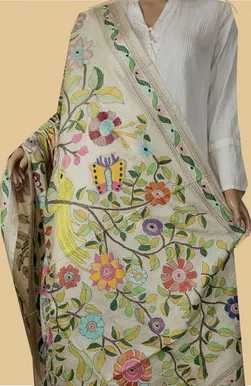 The Kantha Embroidered Dupatta reveals stories embroidered into the cloth. This Bengali dupatta design uses tiny, flowing threads to create patterns that are both simple and complicated, conveying stories of history in each fold. Kantha embroidery stands out among the wide variety of dupattas, displaying the beauty of handcrafted perfection and regional tradition. This variety of dupatta adds a unique pattern to every outfit, resonating with the beauty and elegance of painstaking artistry and cultural depth.
Madhubani Dupatta: Ethereal Aesthetics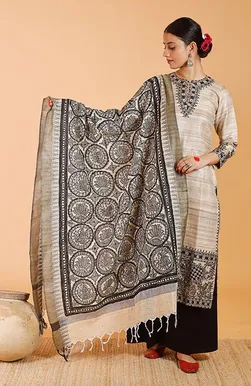 Madhubani Dupatta embodies the ideal synthesis of heritage and craftsmanship. The complex patterns and vibrant hues tell folklore and mythology stories, giving them a whimsical appeal. This sort of dupatta allows each outfit to tell a unique and enchanting tale by fusing art and design. The Madhubani is a brilliant tapestry of tales and color that brings life to the canvas of cloth in the huge variety of Dupatta. This variety of dupatta is a conversation starter, shedding light on India's rich cultural tapestry and traditional art styles.
Patachitra Painted Dupatta: Brush Strokes of Tradition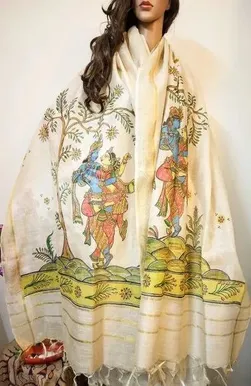 The Patachitra Painted Dupatta unfolds sagas of cultural depth with each brush stroke. This item is from Odisha and exhibits careful craftsmanship, with exquisite renderings of mythical and folk motifs bringing life to the cloth. It's a beautiful combination of story art and textile brilliance. Patachitra offers a unique attraction among the beautiful variety of Dupatta, recounting spectacular epics with every thread and color. This variety of dupatta adds a historic elegance to the ensemble, exemplifying the seamless blending of handcrafted legacy and stylish modernity.
Sequin Dupatta: Sparkling Versatility
The Sequin Dupatta is a shimmering, alluring show. Each sequin reflects a plethora of lights, giving the outfit a fascinating depth. This dupatta is appropriate for a variety of situations, whether you want to dress up your festive clothing or add a touch of glitter to your casual ensemble. The sequin-studded entrant in the variety of Dupatta adds a touch of glitz and color to the fashion palette. This variety of dupattas is a versatile accessory, merging with many styles with ease and creating a sparkling statement for any ensemble.
Drape It Right: How to Wear Dupatta in Different Draping Styles
Discover the many draping techniques that may be utilized to show off the variety of dupattas while exhibiting your personal style and the accessory's adaptability. This versatile garment, which comes in a wide range of patterns and designs, may complement any outfit while emphasizing the great range and diversity inherent in the variety of dupattas. Each piece in this collection has its own unique appeal, embracing individuality and cultural character while adapting to new trends and fashion sensitivities.
Basic Over-The-Shoulder Drape: The Classic Charm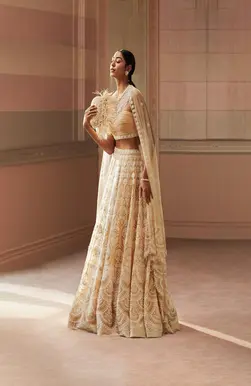 Investigate the traditional over-the-shoulder drape, a timeless design that lends a classic charm to your ensemble while allowing the elegance of the dupatta to show through. The variety of Dupatta covers innumerable styles, each one distinct, allowing for personal expression and flare. This classic item, rich in legacy and cultural value, complements the outfit by expressing the beauty and adaptability of the variety of dupattas. It gently combines current fashion trends with long-standing style traditions to create an effortlessly attractive aesthetic.
Double-Sided Shoulder Drape: A Balanced Elegance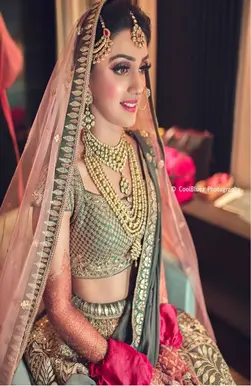 Explore the double-sided shoulder drape's beautiful symmetry. This balanced approach highlights the intricate workmanship of your dupatta while improving your overall appearance. This drape allows both sides to clearly exhibit the complex motifs and rich colors within the variety of dupattas. It honors the creative richness and plurality of traditions reflected in the variety of Dupatta, bringing forth a harmonious combination of aesthetics and culture and adding a layer of refined refinement and flawless grace to any dress.
Front Open Drape: Modern Flair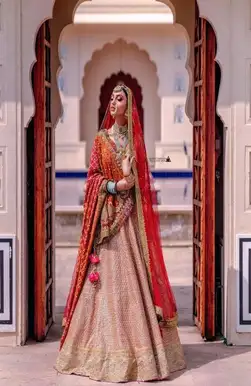 Embrace contemporary aesthetics with the front open drape, a modern style that highlights the complex motifs of your dupatta while remaining fashionable and current. The variety of dupattas allows for a wide range of style options, allowing fashion aficionados to explore and invent. This draping technique emphasizes the intricate patterns and brilliant colors inherent in the variety of dupattas, fusing classic elegance with modern appeal and creating a trendy outlet for individuals to express their sartorial creativity and uniqueness with flair.
Dupatta as a Cape: Trendy Elegance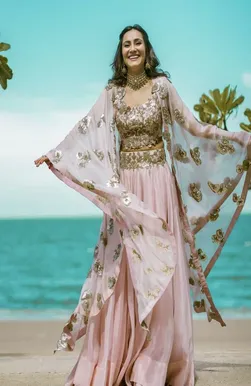 Use the dupatta as a cloak to reinvent your look. This fashionable and unique design shows off your dupatta in all its splendor, letting you stand out with its flowing grace and modern appeal. The vast variety of Dupatta allows for such transformational stylings, with each piece allowing for inventive reinterpretations. The cape style exemplifies the flexibility and diversity of the variety of dupattas, bridging the gap between tradition and contemporaneity and allowing the wearer to explore a seamless combination of elegance and avant-garde design.
One-Sided Pleated Drape: Sleek Sophistication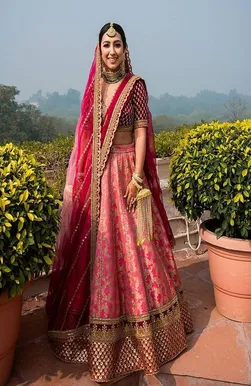 The one-sided pleated drape is a sleek and stylish design that will add a touch of elegance to your ensemble. It's ideal for highlighting the complex patterns and motifs of your dupatta, producing a refined elegance appeal. This design stresses the painstaking details and craftsmanship, with the variety of Dupatta presenting several gorgeous items. This draping technique emphasizes the beauty inherent in the variety of Dupatta, providing a look into the rich traditions and creativity and adding a subtle, refined appeal to the ensemble.
Two-Sided Pleated Drape: Balanced Beauty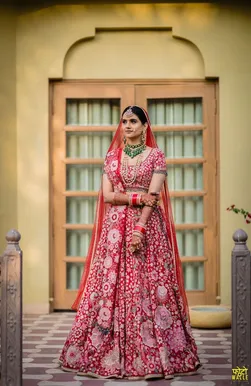 The two-sided pleated drape reveals the beauty of balanced draping. This design emphasizes the symmetry and flow of your dupatta, resulting in a beautiful and composed image. The variety of dupattas available serves as a canvas for this elegant arrangement, emphasizing the refinement and precision of each item. This method of draping enhances the visual appeal of the variety of dupattas, bringing forth a symphonic combination of traditional and contemporary and letting the wearer exude a sense of collected elegance and sophisticated charm.

Belted Dupatta Drape: Structured Elegance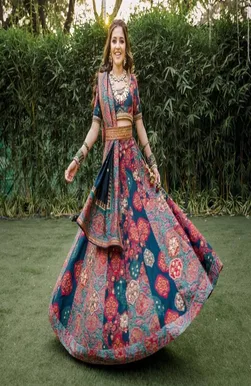 The Belted Dupatta Drape adds a feeling of modernism and structure. The dupatta is cinched at the waist in this design, giving it a poised and defined form that is both modern and stylish. It's a great method to draw attention to your dupatta while also providing a trendy edge to your outfit. This draping method stands out among the wide variety of Dupatta, accentuating the complex beauty of each piece. The belt not only emphasizes the elegance inherent in the variety of dupattas but also adds a modern touch to traditional apparel, providing a trendy and distinct appearance.
Front-Open Drape: Elegance Unveiled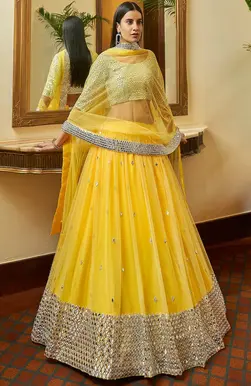 The front open drape is a graceful and understated fashion statement. Allowing the dupatta to fall open in the front highlights the intricate design, making it the focus of attention. This look exemplifies modest elegance, complimenting any ensemble with its composed presence. This draping technique draws attention to the exquisite craftsmanship and diverse patterns within the vast variety of dupattas, asserting itself as a timeless choice that combines traditional aesthetics with contemporary finesse, elevating the wearer's overall look with an air of refined sophistication.
One-sided Pleated Drape: Graceful Folds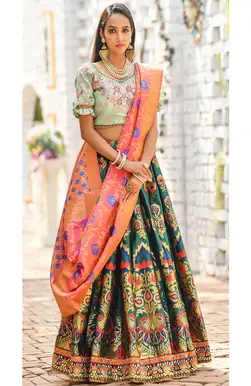 The one-sided pleated drape is a beautiful marriage of heritage and contemporary. One side's expertly made pleats offer a voluminous and dynamic effect, accentuating the pattern while providing a modern touch. It is a flexible design that may be used for a variety of situations and outfits. This draping technique, among the vast variety of dupattas, harmonizes the history of delicate workmanship with a contemporary edge, bringing a fresh perspective on classic elegance and making it a suitable choice for a variety of occasions and fashion choices.
The Heart of Craftsmanship: Concluding Insights
Our journey through the various types of dupatta creates a beautiful tapestry of India's distinct textile traditions. Each variety, with its rich textures, patterns, and procedures, is a monument to the artists' talented hands and innovative brains.
Exploring each dupatta type and draping method is like flipping through the pages of a colorful narrative, with each page interlaced with strands of tradition, invention, and beauty. It's about appreciating the cultural depth and ancestral knowledge buried in each thread, not simply the visual attraction.
So, let us proudly wear our dupattas, appreciating the workmanship, history, and numerous unseen hands who have toiled to keep this magnificent art form alive and developing. Whether you drape it traditionally or in a more modern form, know that each fold and each drape is a continuation of a timeless lineage.
Embracing Variety: The Infinite Palette
Finally, the vast palette of the Dupatta variety beckons us to study, appreciate, and adopt. Every form of dupatta reflects the variety and uniting strands of our cultural fabric. Let us embrace this diverse item, investigate its various manifestations, and make each drape a statement of personality and a celebration of our shared history. Dive deep into this vibrant world and let the Dupatta tell you stories from bygone times while surrounding you in its eternal embrace.
FAQs on Variety of Dupatta
1. What are the many sorts of dupattas on the market?
This inquiry aims to delve into the numerous styles, materials, and designs associated with the category of dupatta.
2. How can I find the best dupatta for my outfit?
This question highlights the fashion element, assisting individuals in selecting the best dupatta to accent their outfits.
3. What are some traditional and regional Dupatta varieties?
The emphasis here is on comprehending the cultural and geographical variation expressed in Dupatta styles.
4. Can you propose unique methods to drape or design various types of dupattas?
This inquiry seeks to give styling advice and ideas for maximizing the adaptability of the dupatta.
5. Where can I acquire a broad variety of dupattas?
This inquiry wants information on where to shop for Dupattas, both online and in physical locations, to provide consumers with a variety of options.