The vibrant festival of Navratri is not just a spiritual journey but also a grand celebration of culture, music, dance, and fashion. Selecting the perfect attire is essential to getting into the festive spirit, and we're here to help with that. Dive into our Navratri outfit ideas, and let's explore traditional styles along with some trendy inspirations. If you're also thinking about what to wear for the energetic Dandiya nights or the graceful Garba dance, we've got you covered with Dandiya outfit ideas and Garba dress ideas as well.
Understanding the Color Significance in Navratri
Navratri celebrates the nine avatars of Goddess Durga, and each day is dedicated to a different avatar and color. From vibrant reds to calming blues, each color holds a special meaning and significance, reflecting a unique avatar of the goddess. When planning your Navratri outfit ideas, incorporating these colors can add both significance and style to your look.
Traditional Navratri Outfit Ideas
Lehenga Choli with Mirror Work
When looking for Navratri outfit ideas, the classic attractiveness of a mirror-worked Lehenga Choli frequently jumps out. The sparkling mirror decorations, a classic option for the event, not only reflect the essence of Navratri but also mimic the joyous sparkle and passion. This dress is a monument to traditional workmanship, and when matched with traditional jewelry, it portrays an image of elegance and cultural richness, making it a popular choice for many Navratri outfit ideas.
Anarkali Suits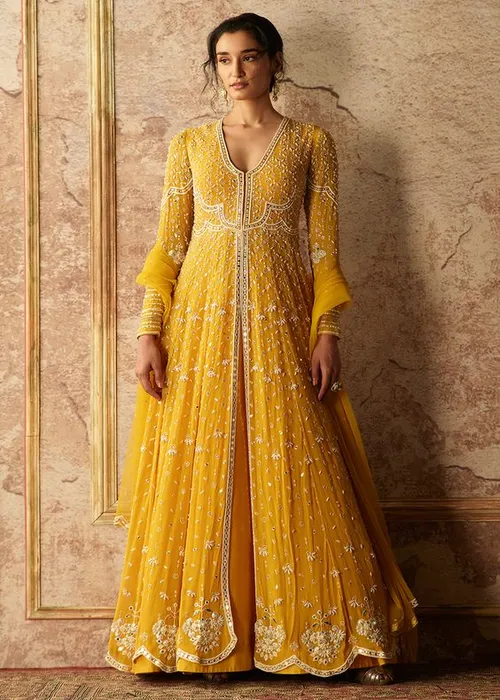 When it comes to Navratri outfit ideas, the Anarkali suit is an unquestionable favorite. These flowing silhouettes effortlessly mix elegance and sophistication, evoking the spirit of the festival. Their beautiful flair and elaborate designs make them appropriate not just for Navratri celebrations but also for Garba dress ideas. Anarkali suits are a favorite recommendation in Navratri outfit ideas lists, whether covered with elaborate embroidery or simple designs, guaranteeing you dance and rejoice in elegance.
Sarees in Festive Colors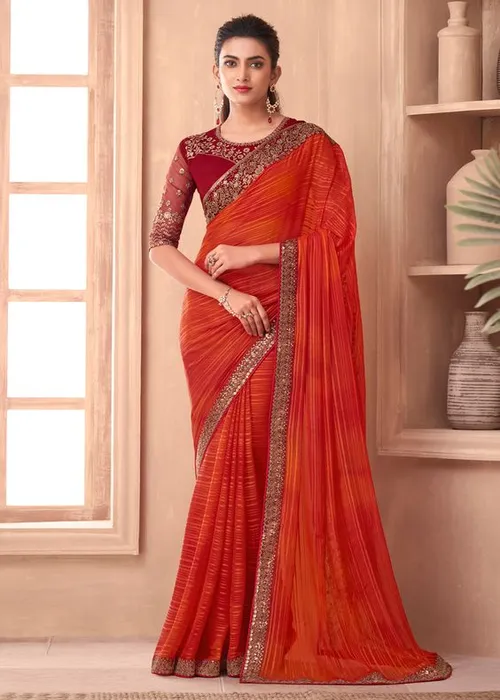 The classic elegance of sarees cannot be overlooked when developing Navratri outfit ideas. They embody the atmosphere of the event, especially in vibrant colors. Using silk, chiffon, or georgette and embellishing it with ethnic designs or elaborate embroidery will improve your festive style. Because of the saree's adaptability, it may be draped in a variety of fashions, each with its own distinct beauty. So, when you drape it beautifully and mix it with appropriate accessories, you're not only set to shine but also to make a statement in one of the most popular Navratri outfit ideas.
Dhoti Style Kurtas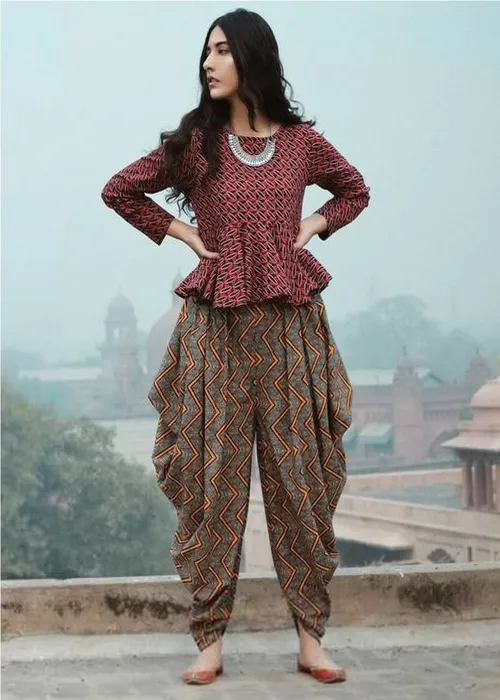 Dhoti Style Kurtas stands out as a combination of tradition and contemporary in the huge terrain of Navratri outfit ideas. These kurtas infuse modern flare into a traditional pattern, providing both comfort and a distinct style statement. The dhoti's loose fit, along with the elegance of the kurta, makes it a popular option for many. Its adaptability goes beyond Navratri celebrations, making it ideal for those coming up with Dandiya outfit ideas. This mix of history and modernity guarantees that you not only dance comfortably but also remain fashionable during the festivities.
Flared Skirts with Crop Tops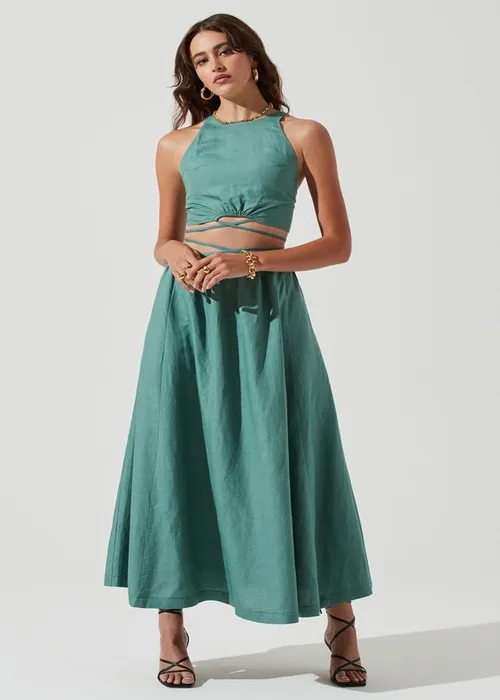 The marriage of flared skirts with crop tops appears as a novel ensemble within the dynamic domain of Navratri outfit ideas. This combo, which is young, lively, and exudes a boho-chic attitude, easily combines the trendiness of modern fashion with the deep-rooted ethos of traditional dress. This combo provides a unique style statement, particularly for the younger generation seeking a blend of current aesthetics and cultural relevance. It exemplifies how Navratri outfit ideas may change while remaining tied to legacy and custom, ensuring that celebrants feel both trendy and culturally engaged.
Modern Twists to Navratri Outfits
Fusion Gowns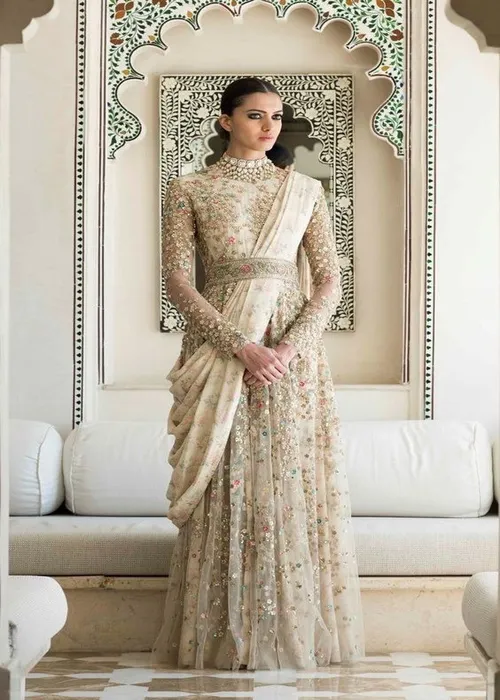 Fusion dresses have earned a special position in the field of Navratri outfit ideas as it continues to grow. These gowns symbolize a harmonic combination of two contrasting design cultures, combining the beauty of Western gowns with the meticulous workmanship of traditional themes. Fusion dresses are a tribute to creativity in festive design, especially for individuals who admire global aesthetics while still wanting a touch of their heritage. These dresses represent the shifting nature of Navratri outfit ideas, demonstrating how traditions and modernism can coexist in apparel and are ideal for the modern fashionista looking to make a striking statement.
Palazzo Pants with Long Kurtis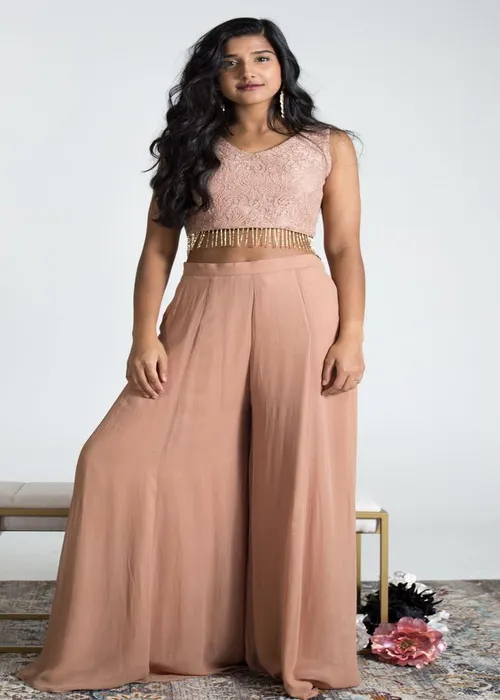 The combination of Palazzo trousers and long Kurtis stands out as a modern classic among the rich tapestry of Navratri outfit ideas. The breezy shape of Palazzo trousers, along with the regal length of long Kurtis, creates an outfit that combines comfort and elegance. This outfit option displays a modern spin on traditional dress, making it especially appealing to people who value ease of movement and flair. Because Navratri festivities sometimes feature energetic dances, this combo becomes a flexible favorite, suitable for both Dandiya and Garba events, demonstrating the versatility and ingenuity inherent in current Navratri outfit ideas.
Contemporary Sarees with Belt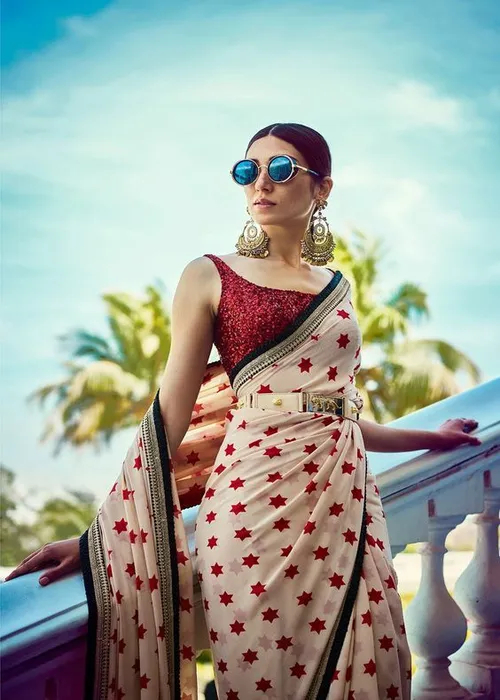 Exploring Navratri outfit ideas frequently leads us to reinventions of traditional attire, such as the modern saree with a belt. While the saree itself has centuries of history, the addition of a belt updates this traditional drape. It not only draws attention to the waistline but also adds a stylish touch, making the outfit both attractive and useful. This mix of old and modern highlights the shifting dynamics of Navratri outfit ideas, guaranteeing that you stand out in the crowd with elegance and flair.
Jumpsuits with Ethnic Embroideries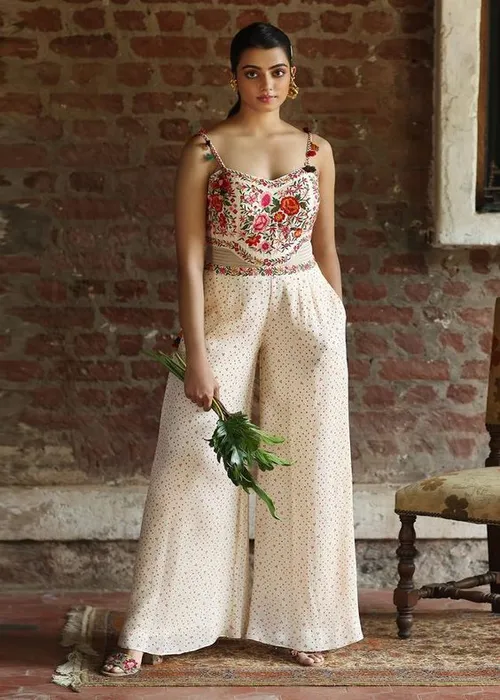 Among the many Navratri outfit ideas, the notion of jumpsuits embellished with ethnic embroidery provides a unique and new viewpoint. This costume, which combines the sleek shape of jumpsuits with the delicate patterns of traditional embroidery, is where comfort meets joyful sentiments. It's a beautiful fusion of Western design and Indian workmanship. This combination allows you to preserve a sophisticated image while still embracing the ethnic character of the event, which is especially important for individuals who want to walk a distinctive route throughout the celebrations. Such fusion-driven Navratri outfit ideas demonstrate the ever-changing and inclusive character of holiday fashion nowadays.
Accessorizing Your Navratri Outfits
No Navratri look is complete without the right accessories. Opt for traditional jewelry like Jhumkas, Bangles, Chokers, and Maang Tikkas. For footwear, embroidered juttis or embellished flats can perfectly complement your attire. Don't forget a matching clutch or purse to carry your essentials while you dance the night away.
Outfit Ideas Based on Navratri Colors
Taking inspiration from the nine sacred colors of Navratri can give you a distinct and meaningful look each day. For instance, on a day dedicated to the color red, a red Anarkali suit or a saree with red accents can be a perfect choice.
Tips for Comfort and Style
If you're gearing up for long nights of Dandiya or Garba, comfort should be a priority. Choose breathable materials and ensure a comfortable fit. Mixing and matching pieces can also offer diverse looks without compromising on comfort.
Conclusion
Navratri is a time of celebration, devotion, and expressing oneself through fashion. Whether you're inclined toward traditional wear or looking for a contemporary twist, our Navratri outfit ideas have something for everyone. And if you're specifically looking for Dandiya outfit ideas or Garba dress ideas, we hope we've ignited some inspiration!
FAQs for Navratri Outfit Ideas
1. What are the hottest Navratri outfit ideas this year?
Fusion dresses with traditional designs and modern sarees with belts are making a big impact this year.
2. Can I use Western features in my Navratri outfit?
Absolutely! Jumpsuits with ethnic embroidery or flared skirts with crop tops are popular Navratri outfit ideas that combine Western and traditional elements.
3. How can I make my traditional saree seem festive for Navratri?
Consider draping it in an unusual way, wearing it with a contemporary shirt, or adorning it with a smart belt to draw attention to the waistline.
4. Is it possible to find Navratri outfit ideas that are appropriate for both Dandiya evenings and normal festival gatherings?
Yes, palazzo pants worn with long Kurtis or Anarkali outfits are adaptable options suitable for both dancing events and formal occasions.
5. What colors should I think about using for my Navratri outfits?
Each day of Navratri is dedicated to a distinct hue, reflecting a different incarnation of Goddess Durga. To keep in tune with the festival's concept, you can select clothing based on these everyday hues.