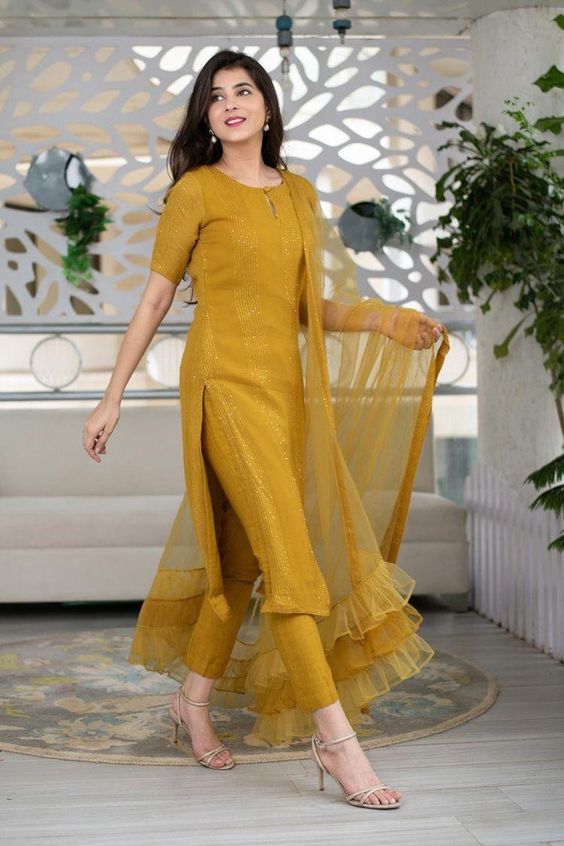 Slip into salwar suits that are elegant and oh-so-stunning. You can take your pick from a dizzying list of styles available and show them off at work, college, functions, and parties. The ubiquitous salwar suit can easily cater to your sense of fashion with its many variations. Love loose, flowing attire? Not a problem! Just don a patiala salwar suit and you're set. Prefer a sleeker silhouette? Get it with fitted salwars and A-line kameez. Not quite sure which style is right for you? We tell you which salwar suits work best for your body type. Today there are so many designs that we really don't blame you for feeling confused! Check out our guide to help you buy salwar suits with ease. You'll learn what to look for besides the right cut and fit.
Anarkali Suits and Kurta-Skirts for Special Occasions
Few garments look as dressy or as graceful as an anarkali salwar suit. The flowing lines and decorative details immediately stand out. We especially love it for its ability to complement different figures. You can go for a very flared number to flatter a pear-shaped body or choose an elongating A-line item to add inches to a petite frame. There are also straight-cut anarkalis for those who want a neat silhouette. Find your style by selecting salwar suits that enhance your good features and play down what you don't want highlighted. Aside from the cut, the neckline and sleeves will determine how demure or sexy an anarkali salwar suit is. We suggest sticking to designs with boat necks and stand collars for wearing to family affairs, office parties, and college functions. Occasions like birthday parties and bridal showers are great for showing off slinkier numbers. We love sleeveless anarkalis, creations with plunging backs, and V-necklines. Try to go for churidar pants instead of the looser salwars. They're more feminine and graceful when combined with anarkalis.
A newer style of the salwar suit is one that does away with pants altogether and features a skirt instead. This modern take on this traditional garment has seen rising popularity, especially among women who love experimenting with new trends. We love the style, particularly suits with elaborately designed kurtas and skirts with details that are just as stunning. Think sequins, beadwork, and mirror work that add oodles of appeal to these already gorgeous creations. Grab one or more of these party wear salwar suits and show them off at engagement parties and other festive occasions.
Patiala Salwar Suits for Semi-Formal Do's
While anarkalis stand out for their splendid long kurtas, patiala suits impress with their fabulous pants. Instead of the fitted churidars you'd wear with anarkalis, patialas feature a very loose cut that's given more shape with numerous pleats and tucks. In fact, they've become so popular that you can even pair them with contemporary tops for a gorgeous fusion outfit. Since a lot of the appeal of patiala salwar suits lies in the pants, we recommend choosing one with a shorter kurta that reaches mid-thigh or right above the knees. This will help you show off the stunning detail on the pants. Like kurtas, patialas come in a range of colours and prints. You can opt for suits with printed kurtas and pants for a dressier look or choose colour-blocked options with metallic accents and embellishments. Suits with zari details are especially gorgeous. They're more expensive too. Whichever you go for, make sure the kurta has a slim fit, otherwise the outfit will look shabby. You can take your pick from sleeveless kurtas and pieces with cap sleeves, notched necklines, mandarin collars, and more.
Salwar Suits for Everyday Wear
While you can sport a patiala suit as casual wear, it's a good idea to set it aside for more special occasions because of its eye-catching cut. However, we do love salwar suits for everyday wear as they're understated, attractive, and generally more affordable. Salwar suits are always flattering. As long as they fit well, they complement any body type. We suggest getting a few suits in various designs to expand your collection. A pretty floral sleeveless suit is great for warm, sunny days while suits with three-quarter sleeves kurtas featuring embroidery and a satiny finish can be worn on dates and meetings with friends. Kurtas with cross-over detail, stand collars, empire waistlines, and flared hemlines are dressier and can be worn when you want to shake things up a bit. Don't forget that you can always add a personal touch with jewellery, bags, and amazing shoes.
Salwar suits are more than just salwar and kameez. They encompass different styles and can take you through different looks with ease. People with busy social calendars will love the dressy anarkalis that make such lasting statements. For the rest, nothing beats slipping into a comfortable patiala salwar or a stylish churidar pants that are brought to life with beautifully printed kurtas in striking, vivid colours. All can be dressed up or dressed down to suit various occasions. Jewellery like earrings, finger rings, toe rings, and bangles can add bling to a simple suit or even to an already ornate ensemble. Footwear such as thong sandals, kolhapuris, juttis, and mojris are the natural footwear choices because they easily complement ethnic wear. You can accessorise with heels too; open-toed sandals and peep-toes are our favourites.
Now, deciding on the right styles of salwar suits is less daunting and a lot more fun. Shop with confidence, buying salwar suits that are totally you. Now that you know what to look for, you'll be able to find flattering creations that perfectly reflect your taste. You'll love creating one-of-a-kind looks with salwar suits as they leave so much room for experimentation. Whether you enhance them with bags, shoes, makeup, or different hairstyles, you can own each ensemble with the right combination. It's all about knowing what looks good on you and playing it up to suit the occasion!
Popular Searches
Top Ethnic Wear Brands in India | Bridal Lehenga Trends | Latest Fashion Trends for Women | Types of Lehenga Choli | Different Kurta Style | Womens Ethnic Wear Tips | Ethnic Wear Ideas | Fashion Bloggers in India | Fashion Magazines in India | Fashion Photographers in India | Best White Sneakers | Eid Outfits | Types of Formal Shoes | Best Traditional Dresses | How to Choose Salwar Kameez