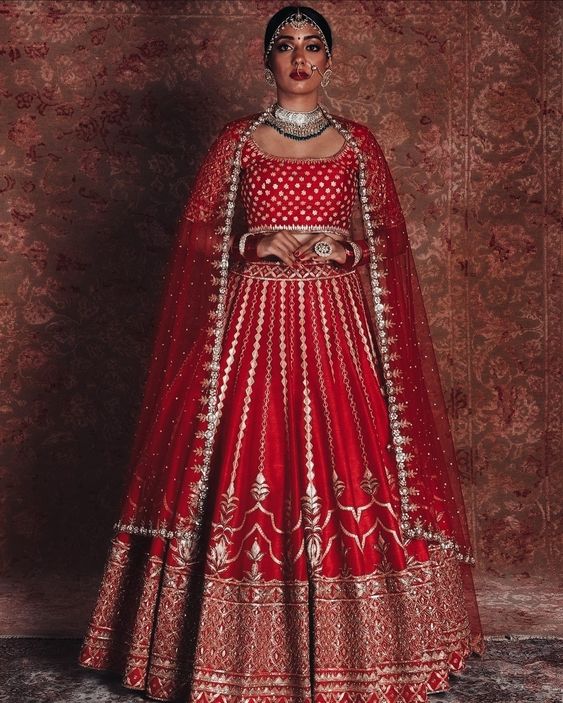 A woman's wedding is one of the most precious moments in her life. This new chapter of life involves tying the knot with the man of their dreams, a massive event full of excitement, delectable feasts and celebrations. Besides that, planning the perfect attire, keeping the bridal lehenga trends of 2023 in mind, complete with jewellery and makeup is a quintessential part of a wedding. 
Every bride wants to look her best and be fashionable at all wedding functions. Bridal attires consist of beautiful embroidered, embellished or printed lehengas. Here, we are offering you an insight into the most compelling collection of bridal lehenga trends 2023 that you should take into consideration before you begin with your shopping.
Top 33 Bridal Lehenga Trends 2023
Inspired by celebrity weddings and top fashion designers, allow us to take you through the bridal lehenga trends of 2023.
1. Anarkali Lehengas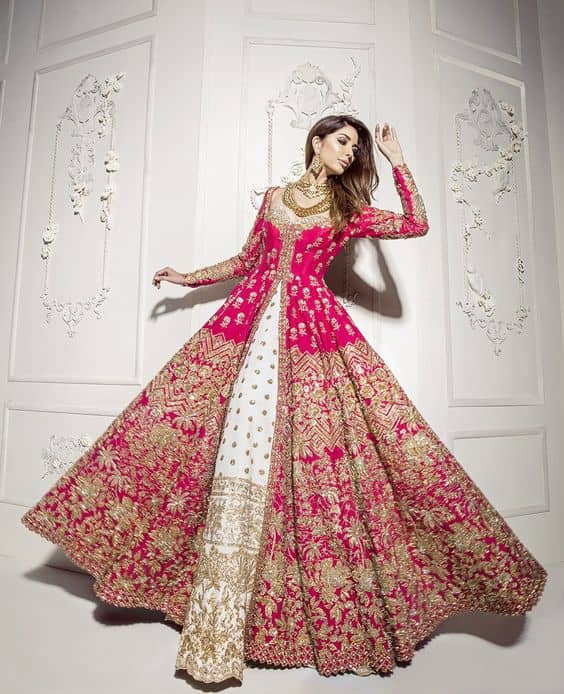 This style trend is a modern version of lehengas where the lehenga has a fit and flare pleated skirt-like silhouette. The flare of this lehenga can be enhanced with an umbrella cut and can-can to add some more definition to the outfit. Anarkali lehengas are an excellent choice for wedding functions like Mehendi and Chooda ceremonies.
2. Lehengas with Double Dupattas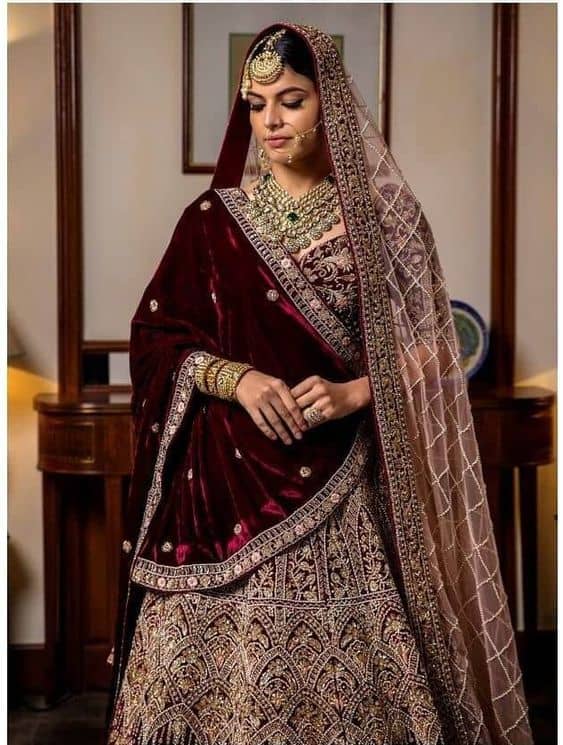 This trend features a long, trailing head veil in contrasting colour topped over the lehenga dupatta to add glamour and drama to a not-so-typical ethnic attire. This fashion idea is inspired by Manish Malhotra's latest collection, where the model was wearing a long, floor-touching dupatta over the lehenga and a separate chunni over the head.
Also Read: Top Fashion Designers In India
3. Printed Lehengas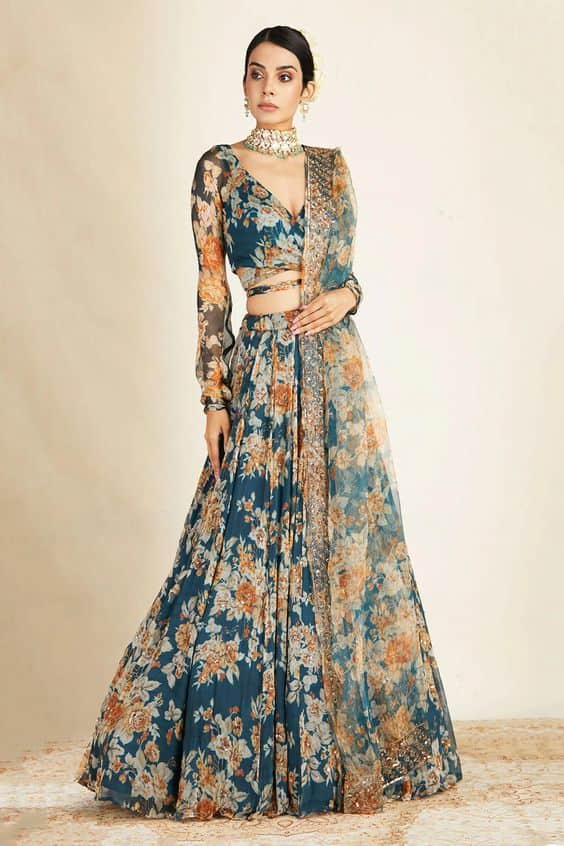 Floral designs, hand block prints and ornate digital engravings on comfortable fabrics are some of the minimalist bridal lehenga trends of 2023. Such different and vibrant printed designs will make you stand out from other Instagram brides. This kind of modern lehenga is worth experimenting with and looks captivating in photographs.
4. Traditional Fabrics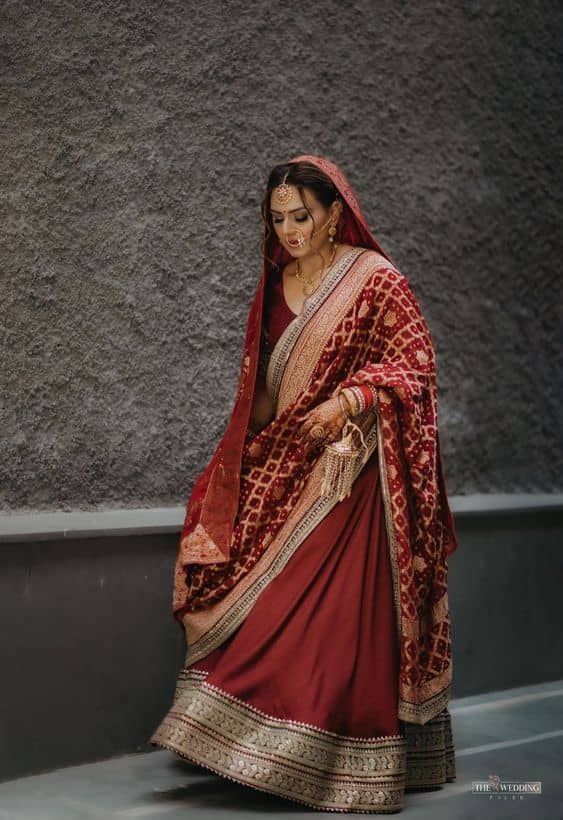 Traditional dress materials crafted by Indian weavers and artisans can be an excellent choice for your bridal lehenga this 2023. Bandhani, Chanderi, Banarasi silk, and Patan Patola are some of the best Indian fabrics. Lehengas made from such materials look royal and regal and are a wonderful way to support and appreciate Indian artisans.
Also Read:  Types Of Tops For Women To Choose From
5. Cerise-Coloured Bridal Attires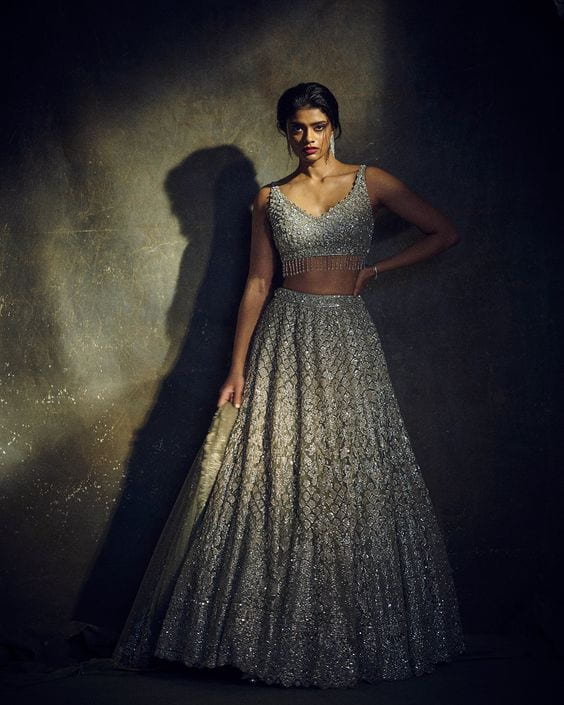 The new colour of the wedding season is cerise. So, if you want to step out of the traditional red colour of bridal lehengas, you can go for cerise-tone outfits intricately detailed with sequins, zari, pearls or mirror work. This magnificent light red colour has stolen the hearts of many and is one of the most-beloved bridal lehenga trends of 2023.
6. Cape-Style Dupattas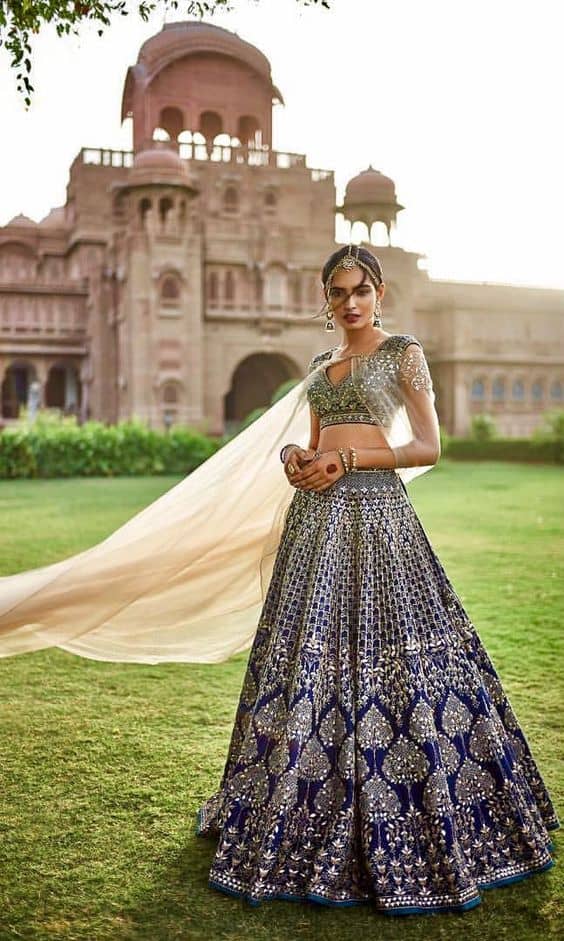 Draping the lehenga dupatta in different styles can indeed transform the overall look of any bridal outfit. The cape-style is one new draping style trend in the town where the dupatta is wrapped as a flowy jacket. Such lehengas are ideal for sangeet functions as you can rock and roll freely, without worrying about handling the dupatta.
7. Lightweight Embroidered Materials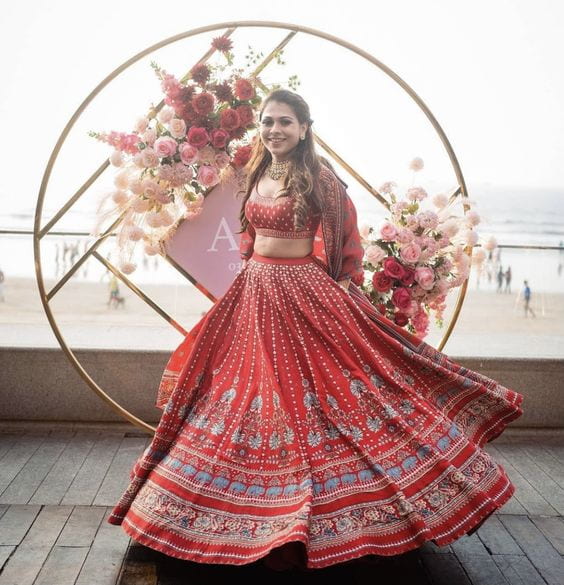 The lightweight embroidered lehengas offer great comfort without compromising on style. They can surely be one of those outfits you envisioned in your dreams. The flowy lehengas featuring light, minimal and impactful embroidery are super convenient to frolic in. To make this outfit comfier, you can select lightweight dress fabrics like chiffon and georgette. 
Also Read: Types Of Skirt You Will Love
8. Statement Blouses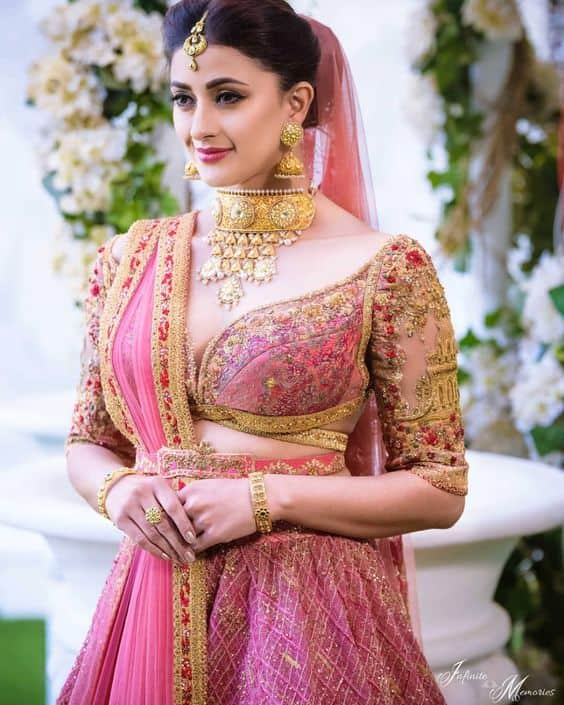 Statement Blouses with ruffled sleeves, frills, heavy embroidery are among the gripping bridal lehenga trends of 2023. This style trend is here to stay without any doubt as they add a higher statement with minimal effort. Wearing traditional lehengas with light work and revamped blouses adorned with jewels can be attention-grabbing and create a unique ensemble that is impossible to replicate.
9. Exaggerated Sleeves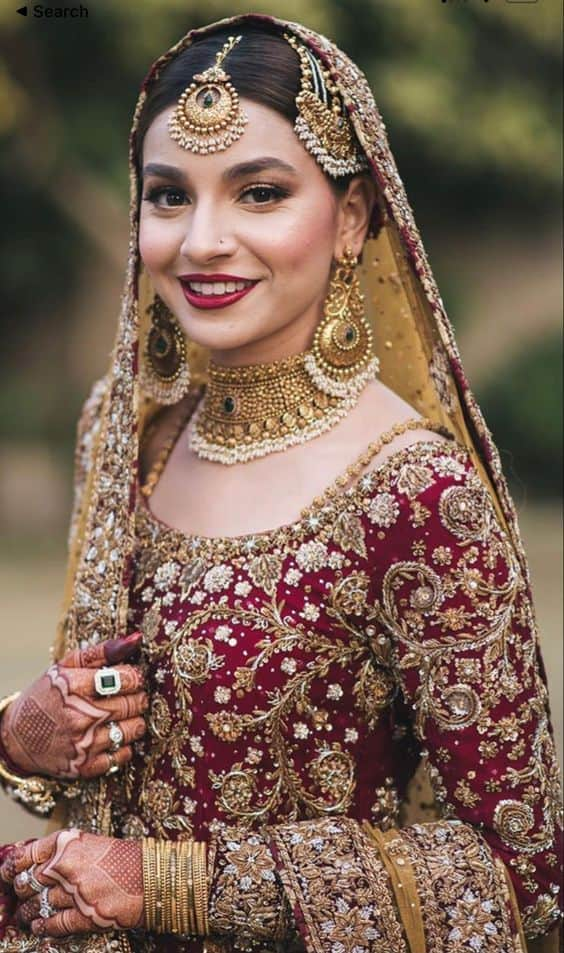 Exaggerated sleeves are an innovative way to create a statement. If heavy embellishments aren't your thing, sleeves like these are a glorious way to add some sass and a luxurious feel to your wedding ensemble. Blouse sleeves with fringes, ruffles, puff, net or lacework are among the top blouse sleeve trends to explore this wedding season.
10. Low V-Neck Blouses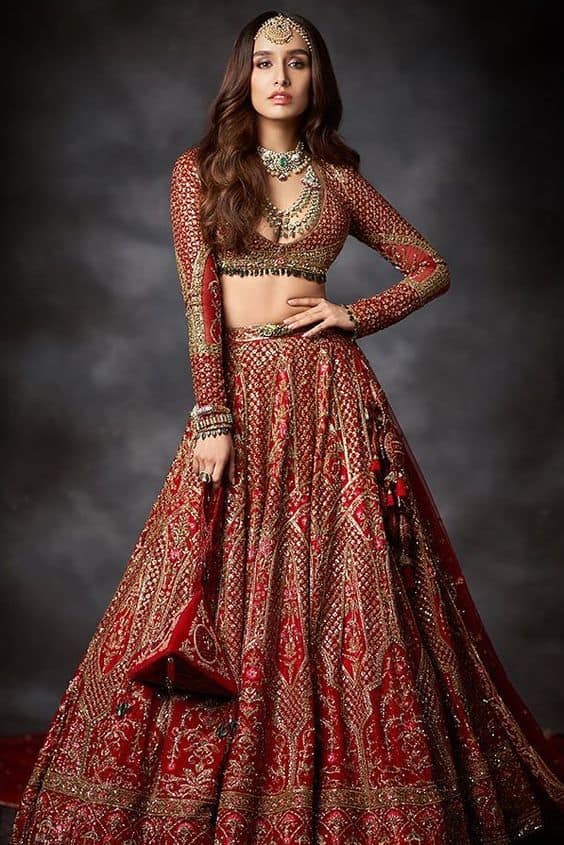 Sabyasachi was the first to embrace this trend by introducing it in his 2019 wedding collection. It continues to stay a relevant bridal blouse trend even two years later. Deep V-neck blouses are highly versatile and can be easily matched with any lehenga design or silhouette. You can experiment with this stunning neckline to amp up the beauty of your blouse to radiate a stunning and joyous vibe.
11. Light-Gold Coloured Lehengas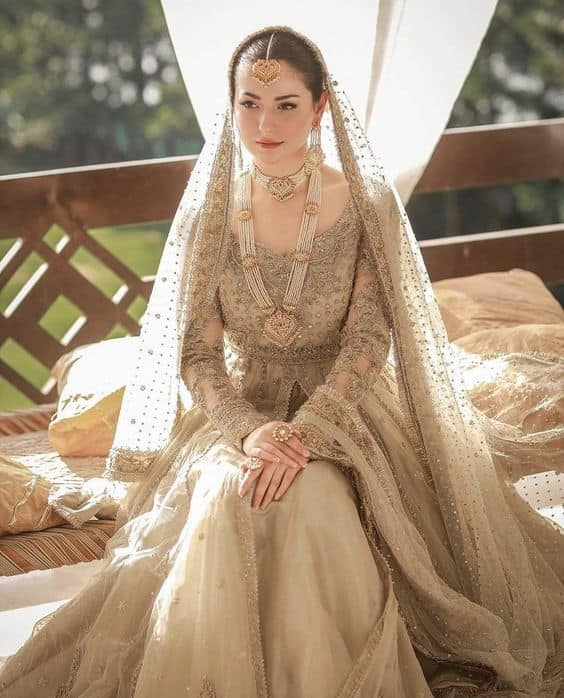 You can opt for such lehengas if you want to escape the traditional red and gold embellished bridal dresses. Instead, opt for light gold hues that are a versatile colour option for your bridal outfit. This dreamy lehenga with an incredible amount of gold detailing is a simplistic but classy outfit to wear for your big day.
12. Shimmer-Embellished Dresses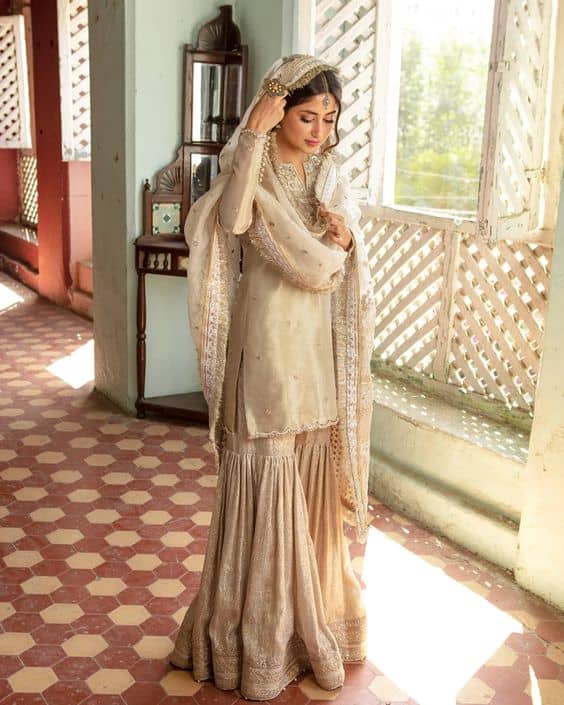 Shimmer-embellished lehengas are among the most popular bridal lehenga trends of 2023. Metallic, mirror, zari, stone and sequin work can dazzle up your traditional outfit and make for the perfect addition to cocktail or sangeet party dresses. The sparkly effect of the lehenga won't let people take their eyes off you.
13. Garnet Gowns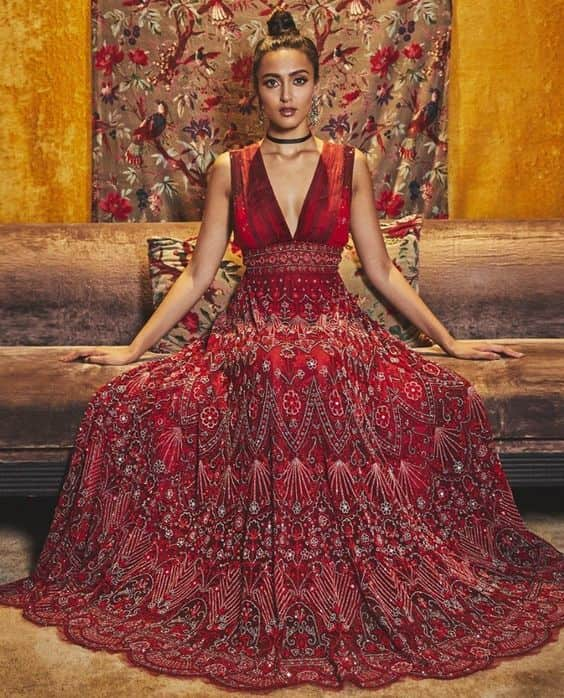 Garnet is a stunning colour to incorporate into your bridal outfit because it appears outstanding in both sunlight and artificial light. You can carry such an outfit from the morning wedding ceremony to the night sit-down reception. Dress up in this photogenic lehenga with your charming smile to capture the dear moments of your wedding day.
14. Multi-Coloured Embroidery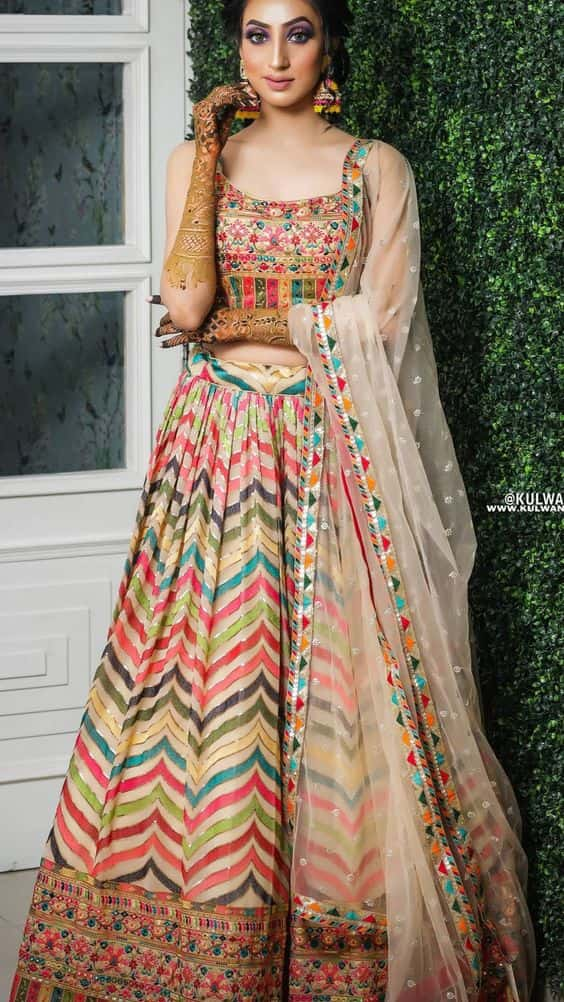 Add a multi-coloured embroidered lehenga skirt or blouse to give dimension to your bridal look. The addition of colours creates a fun palette to match the vibrant energy of such a splendid day. With this vibrant look, you can experiment with subtle pearl jewellery to give it a royal appearance and make the most out of these popular modern bridal lehenga trends of 2023. 
Also Read: 10 Best Luxury Perfume Brands in India
15. Princess Look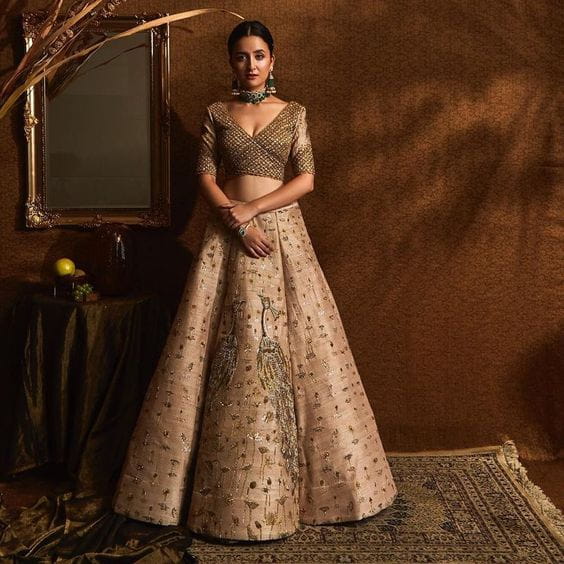 This is one of the best bridal lehenga trends 2023 for all the women who want to look like a princess. A can-can stuffing beneath the flare adds a fairytale aesthetic to a basic lehenga set. This style trend looks breathtaking for the wedding or mehendi ceremony when you don't have to move around too much.
16. Ombré Lehengas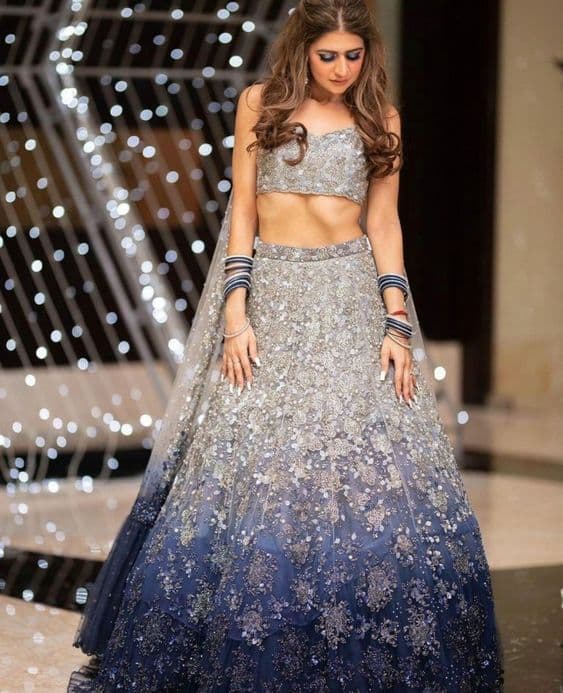 You may have heard about ombre nails and hair colour trends. The ombre tone lehenga trend is quite exciting to try because of its uniqueness. It is inspired by the fashion designer Natasha Dalal. As per her, when you can't decide between pastels and darker colours, go for ombre tones to enjoy the best of both worlds.
17. Long-Sleeved Blouses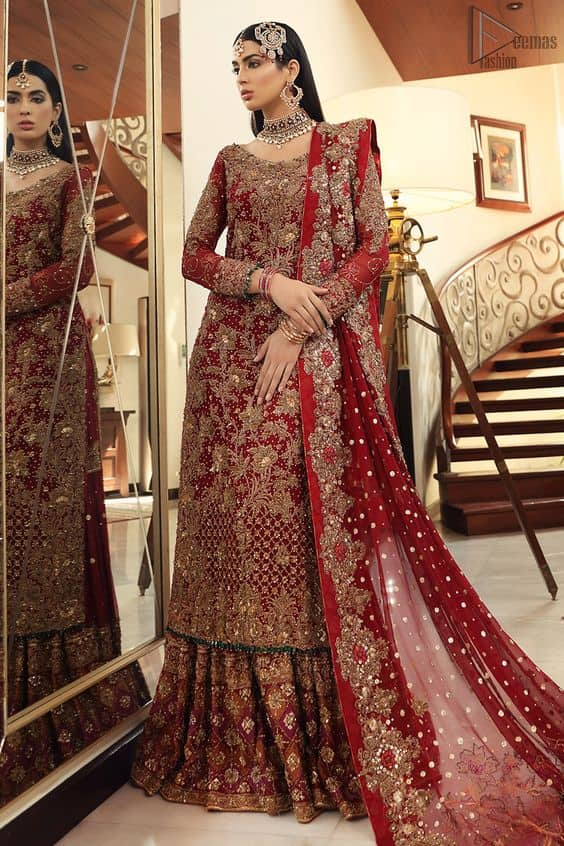 A blouse designed with longer sleeves adds an elegant and formal feel to the bridal lehenga. This outfit is suited for engagement functions or events where a formal dress code is imperative. The full sleeves give a more regal and classy look and can even be restyled post your marriage. The outfit surely deserves a spot in your trousseau.
18. Pastel Bridal Lehenga Trends 2023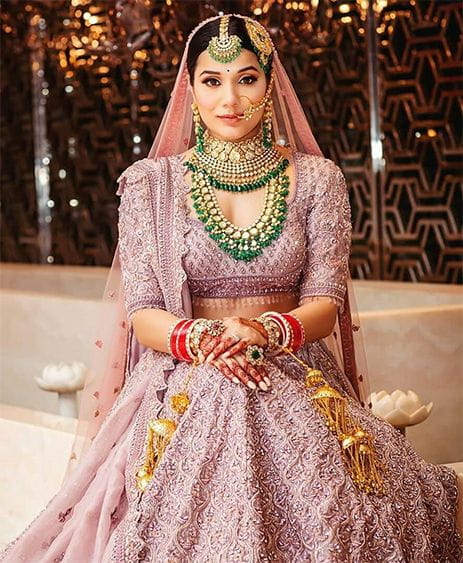 Pastel colours do wonders and are quite loved by the millennials. Also, their following is constantly rising on social media. Also, when Anushka Sharma debuted her pastel pink wedding outfit, the colour took a massive upward wave in Indian weddings. Mint green, faded blue, blush pink, or light yellow tones are spectacular lehenga colours to choose from.
19. Pristine White Lehengas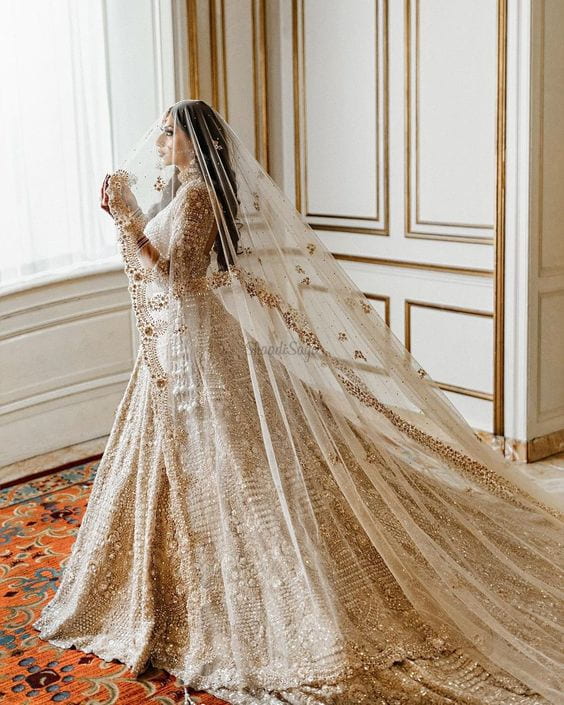 White wedding lehengas are making a recurring appearance at weddings in many Indian states. In South India and a few places in Gujarat and Assam, white colour is the centrepiece in bridal outfits. The best part about the pristine white lehenga is it looks astounding in daylight and the evening with its impeccable radiance.
Also Read: Types of Tops – 15 Must-Have Types of Tops for Women
20. Purple Bridal Lehenga Trend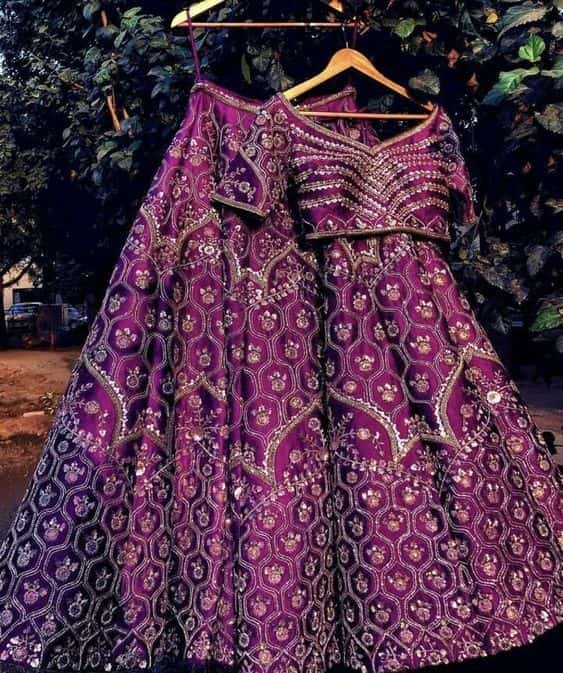 Purple is the new red that blends in well with women's fascination for weddings. It is among the trending bridal lehenga designs 2023 and further continues to win the hearts of many brides. This royal purple fashion trend can be styled for a multitude of wedding events like mehendi, sangeet and reception.
21. Clean Lehenga Design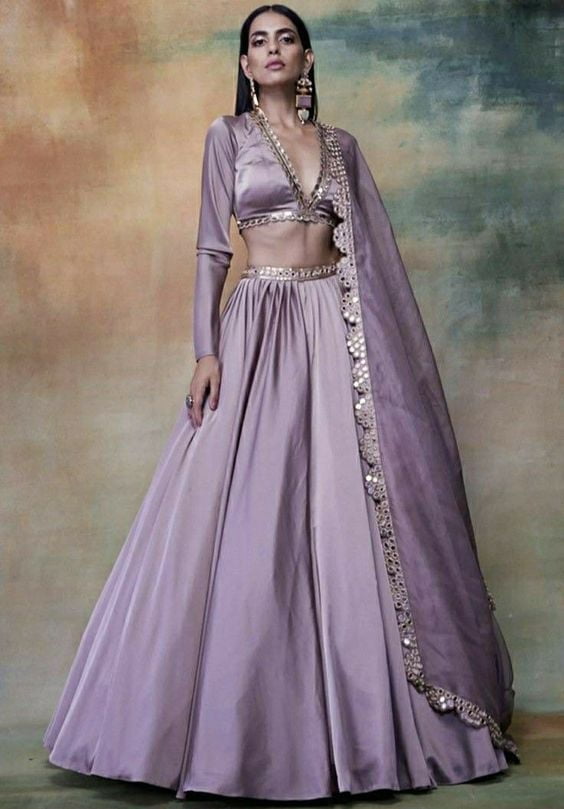 After the upward rise and downward spiral of the ruffled sleeves trend, brides rebounded to the usual clean and regular lehenga cutting design in 2023. The classic floor-length lehenga with an A-line flare looks pleasing no matter your preferred aesthetic. You can wear the classic lehenga design on any of the wedding functions. This way, you can explore trendy as well as traditional varieties of lehengas.
22. Bridal Capes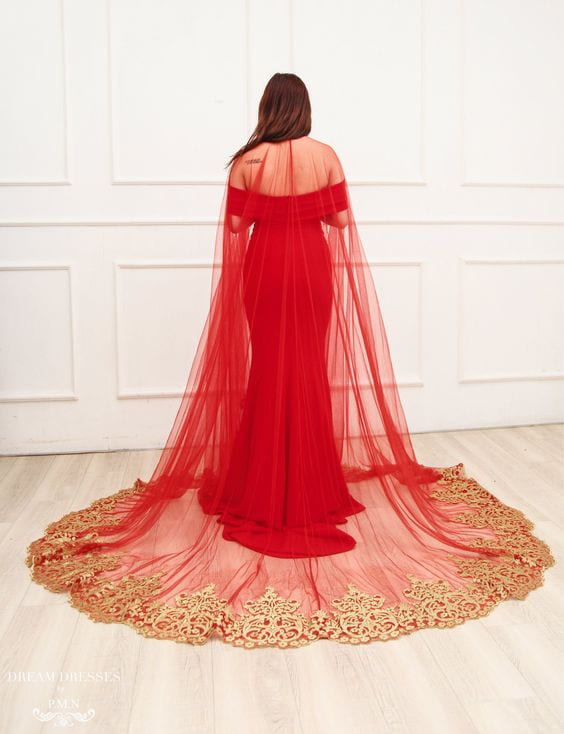 The ready-made cape style dress can be one of the most comfortable and fashionable lehenga designs in 2023. So, get rid of the dupatta and be ready to twirl and dance your heart out. This is one of the bridal lehenga trends 2023 that almost every bride loves and pictures to recreate.
23. Lehenga with Kamarbandh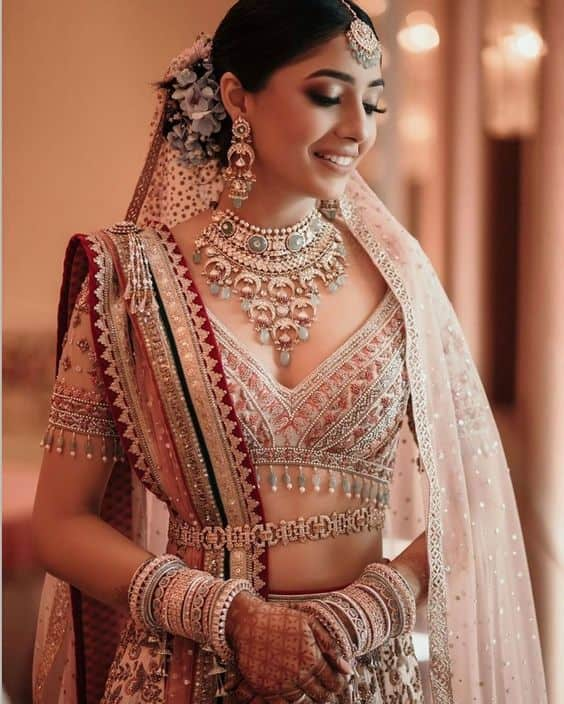 Kamarbandh is an embellished or embroidered belt, which is styled over a dress to emphasise the waistline. Style your lehenga with this charming accessory to stay ahead of the latest bridal lehenga trends in 2023. Kamarbandh adds a statement and also helps to hold the dupatta in place for easy movability. The global star Priyanka Chopra also had a diamond belt paired with her red sindoori lehenga. So, this style trend is celebrity-approved and makes a noble addition.
24. Bollywood Style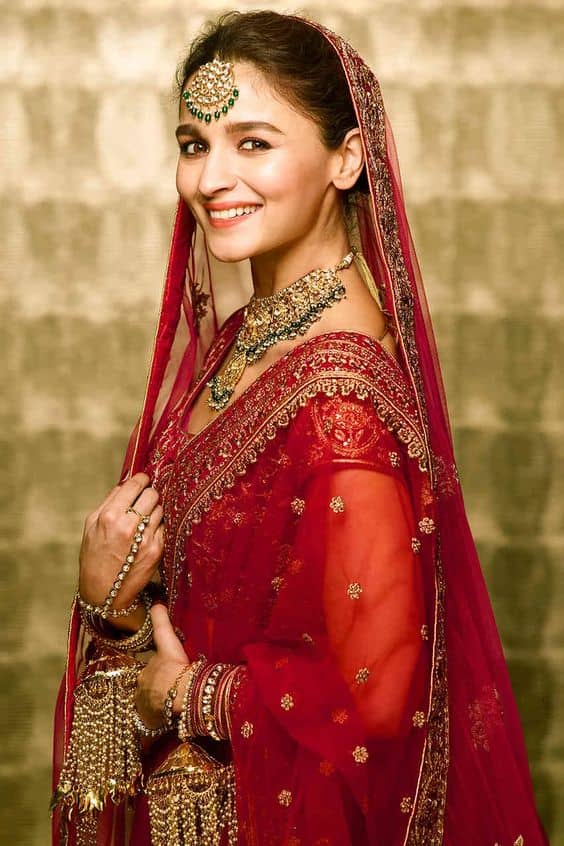 A wedding ensemble inspired by the famous B-town actresses is worth considering. A few marriage outfit elements like Deepika Padukone's sada saubhagyavati bhavah dupatta, or Anushka Sharma's pastel colour lehenga are compelling outfit inspirations. There have already been many brides that have been seen styling lehengas influenced by Bollywood trends.
25. Colour-Blocked Lehengas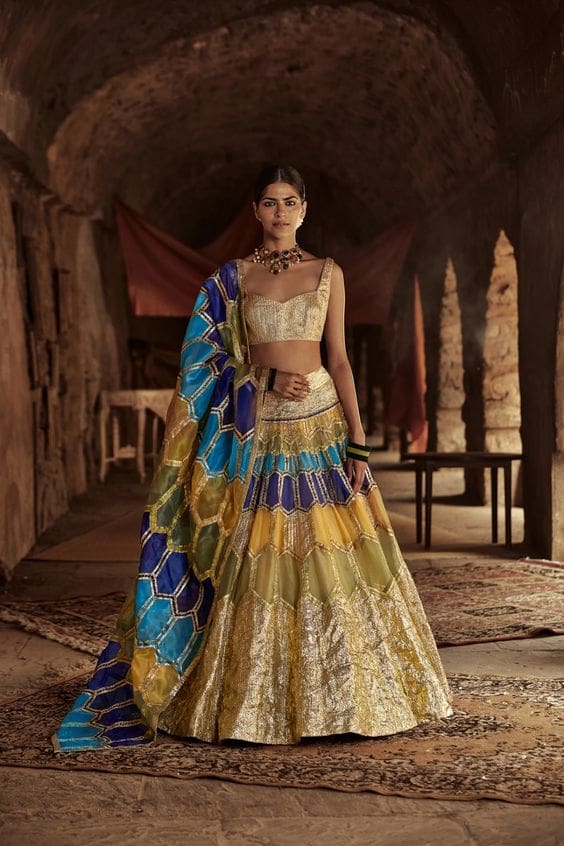 Taking a break from monotone lehengas, brides are considering colour-blocked options in 2023. If you love playing with colours or keeping your outfit plain, then make the best out of this versatile wedding lehenga trend. You can experiment with vibrant or subtle pastels as per your style preferences. 
Also Read: 22 Best Valentines Day Gifts For Him That He Will Love
26. Off-Shoulder Blouse Sleeves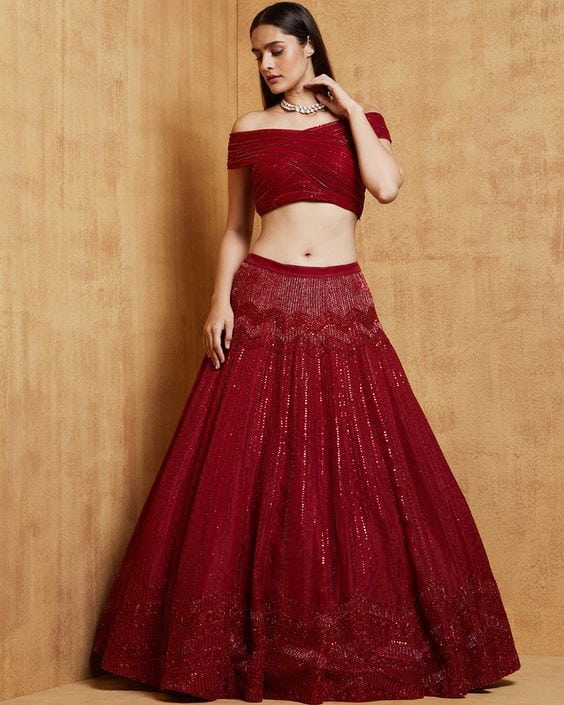 Off-shoulder sleeves are another set of trending bridal lehenga designs of 2023. Sleeves are a great way to add some drama with elegance to the entire marriage outfit. A heavy embroidered design with a melange of exceptional mirror work, fringes and pearls can make for a gorgeous wedding lehenga choice.
27. Gold Dori Work Lehengas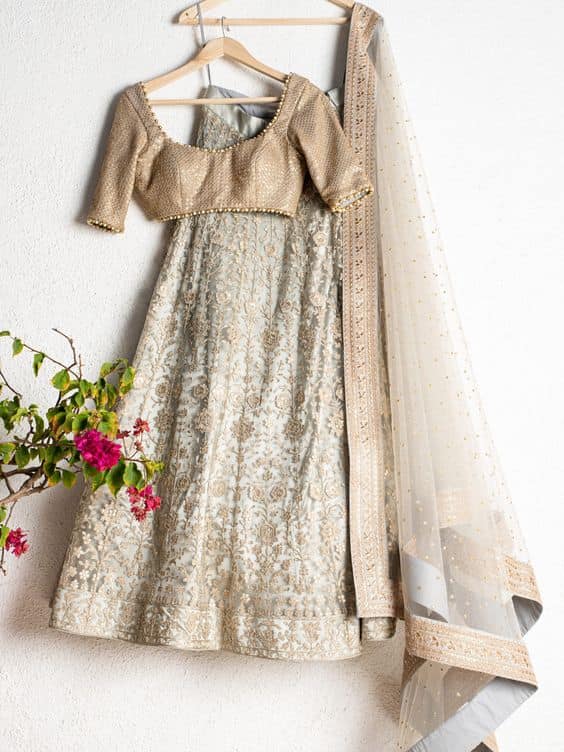 Gold work is a staple bridal lehenga found especially in Punjabi weddings in India. Including gold in the colour palette with distinct patterns and minute Dori detailing can be one of the top choices for the modern bride to pay tribute to Indian traditions. A gold bridal lehenga is definitely a show-stealing piece to flaunt this wedding season.
28. Geometric Shapes Lehengas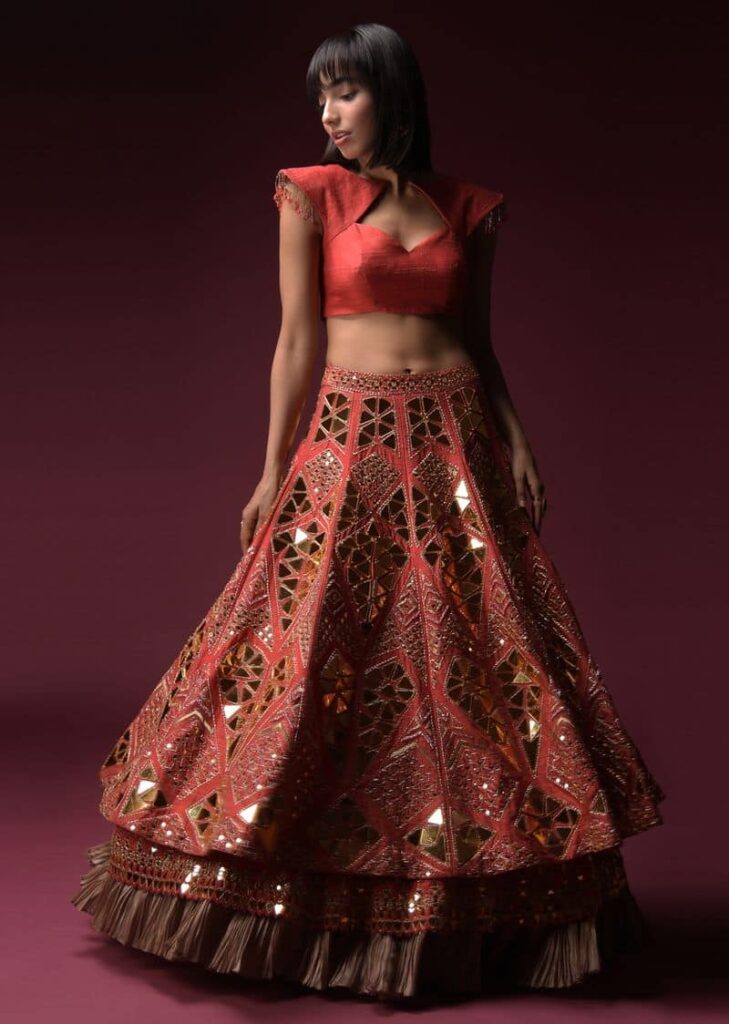 A lehenga choli with hand embroidery and geometric print, zari or mirror work is one of the current bridal outfit trends to follow. A dazzling colour combination with geometric shape patterns can be a fantastic mehendi or sangeet dress that will make you stand out from other brides.
29. Non-Gold Embroidery Lehengas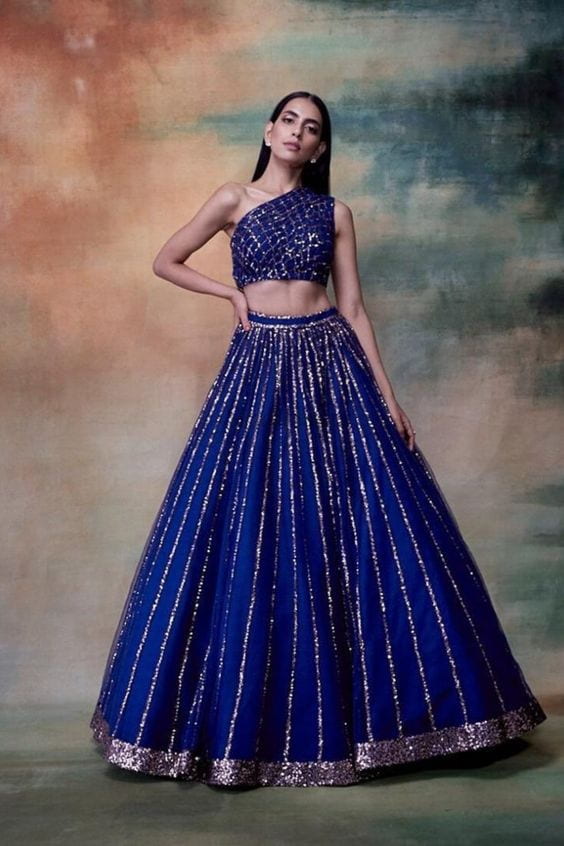 Many women prefer wearing trending and stylish lehengas that don't feature gold embroidery. Also, if you're the bride who intends to re-wear their bridal lehenga post marriage for future festivities, this trend presents itself to be the perfect home for a collection of versatile outfits.
30. Sweeping Lehenga Trail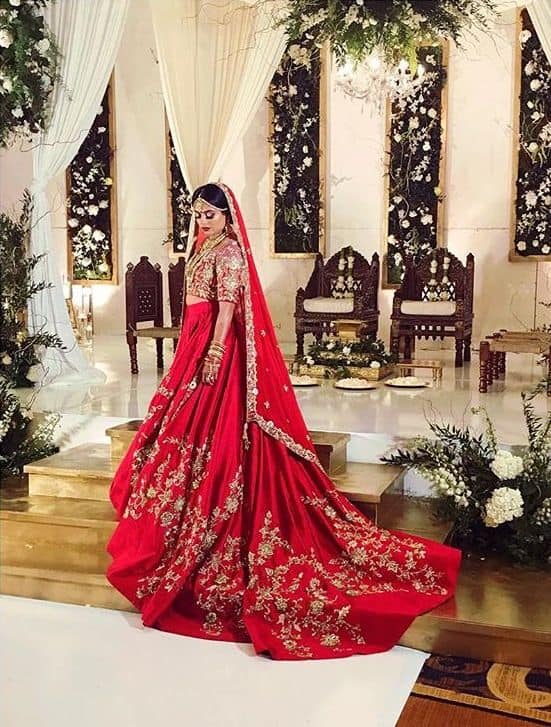 A lehenga with a sweeping trail, irrespective of its length, can add a lovely fairy tale vibe to your wedding look. This style trend was recently observed in Manish Malhotra's bridal lehenga designs. Many brands and stores are offering such wedding dresses in budget-friendly options for brides to get the benefit to relish this stunning element.
31. Emerald Green Outfits
Emerald green, a lively colour representing love and hope, can be added to an outdoor evening reception outfit. Pairing such a colour of lehenga with sterling silver jewellery gives a royal appeal to your look and is captivating enough to grab eyeballs as you walk down the aisle.       
Also Read: Top 30 Luxury Fashion Brands In India Gaining Huge Popularity
32. Organza Skirts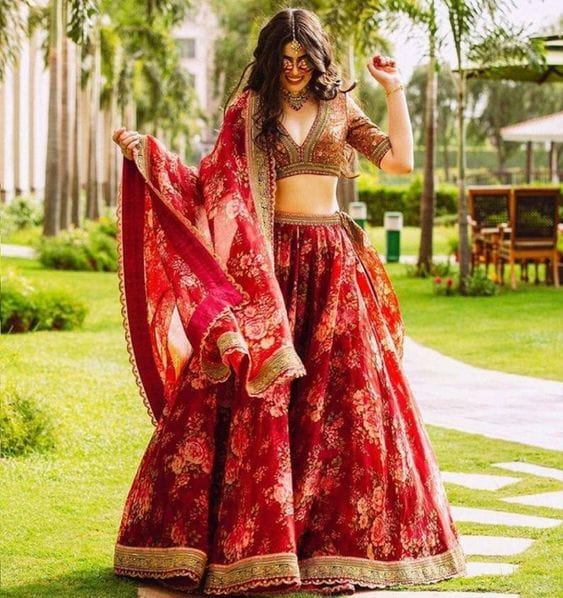 Leverage the love for organza lehenga in 2023, especially when you are going for a beachy, destination or outdoor wedding. A light organza skirt in pastel shades with bedazzled jewellery matching the dress is among the top bridal lehenga trends of 2023.
33. Ball Gowns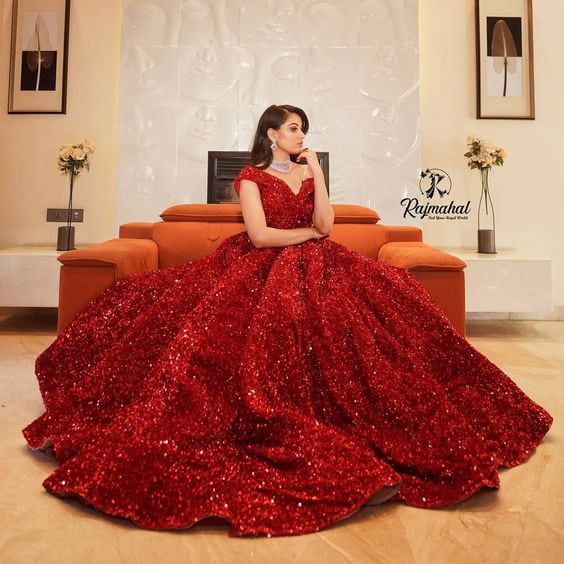 Ball Gowns are among the most-wishlisted bridal lehenga trends of 2023. If you are an Indian bride who dreams of wearing a Met Gala-like gown, the time has come to flaunt it to perfection. Exaggerated ball gown lehengas with innovative draping style and sheer net sleeves can be your D-Day dress when you walk down the aisle.
If you are a bride-to-be who wishes to uncover the right balance between traditional and modern attire, then 2023 is the time for you to glow. We hope you like this bridal lehenga trends 2023 compilation, follow your favourite one and let the good vibes in.
Popular Searches
Top Ethnic Wear Brands in India | Latest Fashion Trends for Women | Priyanka Chopra Style | Womens Ethnic Wear Tips | Ethnic Wear Ideas | Best Anarkali Suit | Best Traditional Dresses | Bollywood Actress in Wedding Dress | Eid Outfits Ideas | How to Choose Salwar Kameez | Types of Lehenga Choli | Different Kurta Style | Types of Silk Sarees | How to Buy Jewellery | Fashion Photographers of India