A traditional dress is a girl's best bet when it comes to dazzling people at weddings or other grand occasions. We all have our fair share of experience with traditional Dresses for girls, don't we? Like you really want to rock them every time you are invited to your relative's place. Believe me, many of us have a separate closet just for them. So if you are planning to buy one, then you might as well explore the best options from various regions of India.

What are the traditional dresses for girls?
When you hear of the term "Traditional Dress for girls", the first thing that comes to your mind is a Saree, which is not right. For a country that is known for its traditional and cultural values across the globe, we surprisingly do not look beyond the saree. So, I thought why not make a list and help my fellow sisters make the right choice and enhance their style game by a notch. Here are some of the must-have traditional dresses that every girl must have in 2019, with no exceptions. Let's get started.

Anarkali Salwar Suit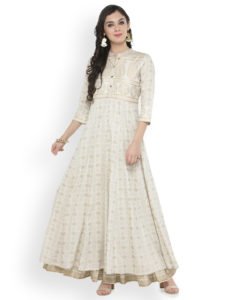 What saree is to your mom, Anarkali is to you. In recent times, the Anarkali has become that go-to dress for weddings. A little history lesson for you, according to some of my source (the internet) they are named after one of the most beautiful women to ever walk on the face of the earth, Anarkali (Yes, the Mughal-E-Azam one). No wonder, we feel so grateful every time we wear one. Also, your parents would never say no to an Anarkali because, for starters, it screams ethnicity and also has a rich regal vibe to it. Which is ironical considering the fact that you can get a good one for around INR 2500. Now that's a steal, my friend. Red and black are the must-have colours when it comes to Anarkali Suits, and if you don't own one, you should get one right away.
Pavadai Davani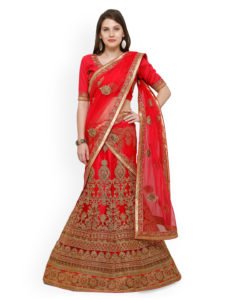 What makes girls look the cutest? For south Indians and now for you, it's a Pavadai Davani. Let me get this straight, Davani should not be confined to Tamil girls or South Indians for that matter. We all should get one just for the sheer unique look associated with it. For those who have no clue as to what a Pavadai Davani is? Well, it is a type of saree which is mostly worn among girls under 25 in the southern part of India. If you still did not get it, then do you remember Chennai Express? One of the reasons why Deepika looked that cute is that she was rocking a Davani throughout the movie. Every south Indian girl owns one, and you should too. If you are planning to get one, then you should go for some bright contrasting colours like Red, Blue and Green. These are the colours you can't go wrong with and make you look elegant.
Lehenga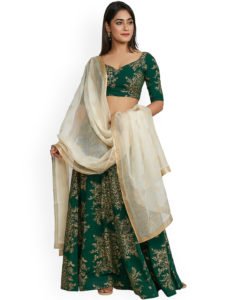 Another go-to wedding dress for girls is the lehenga. They are also the most expensive ones on the list. Despite being a North Indian preference in wedding dresses, lately, they have gotten famous in different parts of the world due to various celebrities flaunting lehengas by popular designers. In 2018 alone, almost all the Bollywood actresses who got married had a lehenga as one of their many wedding outfits. Even though red and white are the most famous colour variants, there are other colours you could explore such as gold/sand colours, burgundy, dusty pink etc. You can also do a lot of experiments with them like I have seen people pairing their lehenga with a leather jacket which makes them look 'BADASS'. Don't let the price tag dull you because you will never regret buying one.
Kurti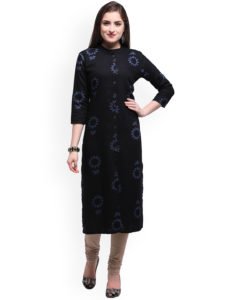 This one is for the fashion enthusiast in you and me. Why? Because, believe it or not, they are something which brings the best from both western and traditional designs. The best part about kurti is that they are available in almost thousands of designs, materials and colour variants. So choose the one that best suits you and rock one anywhere. Apparently, 'When in doubt, always kurti' is a thing, and I, personally, cannot be any happier. When confused about picking one, you could look for options in white, pink, black and magenta in terms of colours.
 So, these were my picks in traditional dresses for girls outfits that I think can totally dazzle anyone. With the above-mentioned options, go ahead and have a great year flaunting your traditional outfits this 2019. For more such insights on fashion, makeup, accessories and more, keep following InfiFashion.